Last year Aberystwyth University took part in the pilot of JISC Student Digital Experience Tracker – an online survey designed by JISC to collect information about students' expectations and experiences of technology. The 2017/18 pilot has led to a new Jisc service now called Digital Experience Insights.
Digital Insights survey for students run at AU in January 2019. We were very excited about running this survey for the second time, as it enabled us to compare the findings with last year's result and track our progress on digital provisions.
Below you will see a short summary of some of the key findings. If you wish to discuss them further or get more information on the project, please contact us at elearning@aber.ac.uk.
As you may be aware the Digital Experience Insights survey comes with a benchmarking data from other Higher Education institutions in our sector. The benchmarking data has been now made available and we will share it with you in the next Digital Insights post.
If you wish to read about AU experience of running Digital Insights in academic year 2017/18, take a look at the article published on Jisc website or browse through our previous posts:
---
Digital Experience Insights 2018/19
WiFi
Students' satisfaction with WiFi increased by 7.3% in comparison to last year's survey. Although WiFi is still the most common theme in students comment, the number of comments regarding WiFi decreased from 66 last year to 38 this year.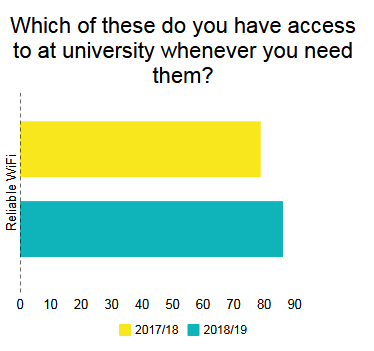 E-books & E-journals
7.7% less students responded that they have access to e-books and journals whenever they need them, this issue has been also mentioned in 19 of students' comments.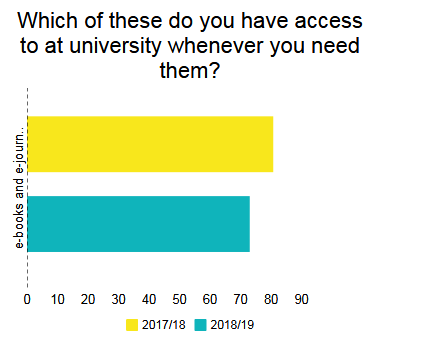 Blackboard
The issue regarding a navigation in Blackboard seemed to improve. There were only 3 comments about this issue in comparison to 20 last year and 8.2% increase in the question on Blackboard navigation.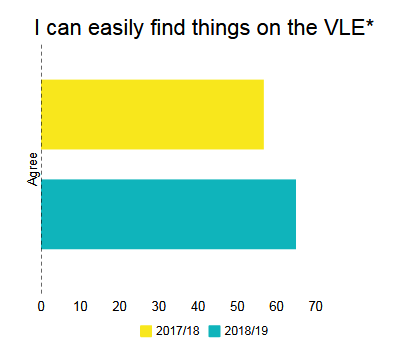 *The question wording has changed since the 2017/18 survey which could have impacted the ratings.
Security
Students are more satisfied with the provisions regarding security issues.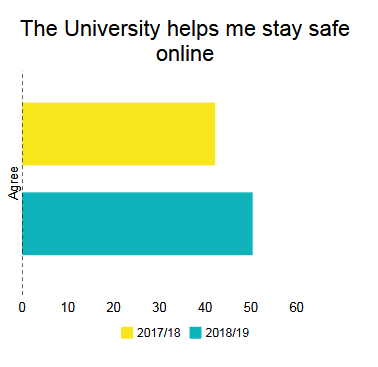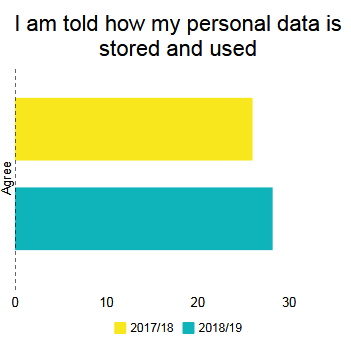 Mobile devices
The use of smartphone to support learning increased slightly. In the comments, students talked about the need of core services such as Panopto and Blackboard being mobile friendly and about usefulness of apps helping them with their studies. Interestingly, when asked whether they would prefer to be allowed to use their own mobile devices in class only 49% answered 'At any time', 45.4% answered 'Only to carry out class activities' and 5.6% 'None of the time'.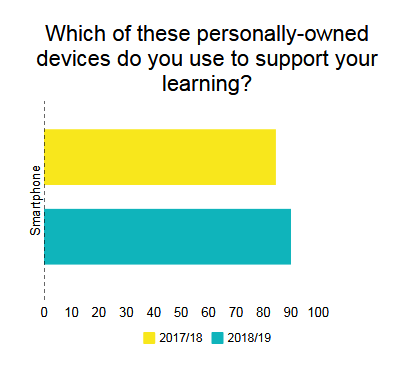 Use of technology
There is a shift towards using more technology, there were quite a few comments about staff needing more training on the use of technology and there was an increase of nearly 10% of students wanting more technology to be used on their course.