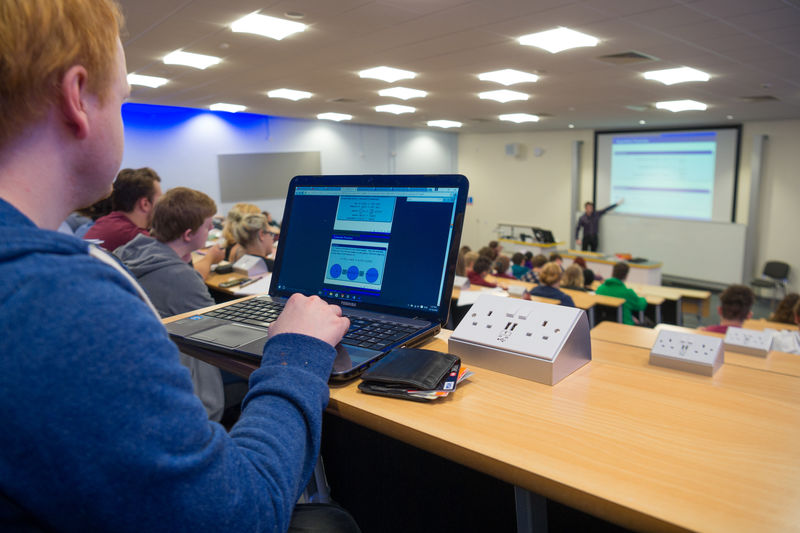 Take a look at the full report of the findings from all the institutions that participated in the 2018 Digital Experience Tracker. Many of the key messages included in the report correspond to findings from Digital Tracker at Aber.
Consistency in the VLE
We have repeatedly received feedback from students asking for VLE navigation to be more intuitive and the organization of content to be more consistent across modules. Findings from the Digital Tracker at Aber and the benchmarking data from UK emphasise this issue. Students would like all the materials for their courses to be available on the VLE in a timely manner and possibly in the same location in all modules so that they can navigate easily to the content that they need.
Engage students in class using technology
Can we use technology to make lectures more engaging? Our results in the digital course activities section of the tracker were lower than the benchmarking scores. Students have also asked for their sessions to be more interactive in the open text comments:
'Make lectures more interactive and able to include the students to interact more. There's an online website where you can join to get the right answer which gets people competing and learning.'
We are happy to support any members of staff who would like to enhance their teaching with digital course activities. Contact us to discuss your ideas and possibilities or come to one of our E-learning Enhanced: What can I do with Blackboard? Sessions.
Digital skills for life
Although most students use technology on a daily basis, they are not necessarily aware what these essential digital skills are and how important digital skills are for their employability. Less than a half of AU Digital Tracker respondents don't feel that the university prepares them for the digital workplace.
You may notice that the report is called Digital Experience Insights rather than Digital Experience Tracker. The Digital Experience Tracker 2018 was a pilot study which led to a new service now called Digital Experience Insights. We believe that the participation in this project helped us to more effectively meet digital expectations' of our students. We hope to share examples of good practise in this area on our blog.
If you wish to share your experiences of supporting students digitally as a guest blogger, please contact us: elearning@aber.ac.uk
Read: