If you've already read part one of this series, you'll know how useful online polling services are to engaging students actively in the classroom (if you haven't – take a look).
As well as selecting a tool to suit your teaching and learning activity, you also need to take a look at the Privacy Policy of the service you're interested in. This will help you to understand what:
personal data the company in question is collecting about you;
what personal data your students may be required to give;
information on how your presentations are stored;
how and where your data is kept.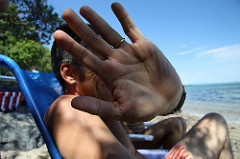 Most companies make their Privacy Policy pretty easy to find (on most sites there was a link at the bottom of the homepage under the heading Privacy).
Here are our top tips when using an online polling tool:
We found the Terms and Conditions of most services are fairly short and easy to understand – some even provided an 'at a glance' summary of main points.
In the majority of cases, students are not required to create accounts or register for a service to take part in a polling activity. This means that for students, the only information that is collected about them would be details of the browser / device etc they used to access the poll. And this won't be linked to their name or email address.
In all cases, staff need to register with a service to create and display polls. For the majority of the services, you can either create a username and password, or link to an existing account (such as Google or Facebook).

If you are creating your own account, don't use your AU password as the password to the polling service. Follow our tips to create a strong, separate password (https://faqs.aber.ac.uk/index.php?id=25)
If you are using an existing account, be aware of the data that may be shared between the two services. Your Facebook or Google account will contain lots of information about you that you may not want to be shared. You may want to look at the settings for the connection to make sure that you are happy with the level of data shared.

Have a look at the rights you have to your polls. Some services allow other users to browse and share presentations, so you may want to consider the visibility of your presentations.
Consider which third parties your data is shared with. We strongly recommend that you choose a service where the data is either based in the EU or where the company has the EU-US Privacy Shield standard in place. And check your preferences – do you want to opt-out of mailing lists, advertising etc.
At present, AU does not have a site licence for an online polling service, so when signing up for one of these services you are signing up as an individual, rather than as a representative of, or on behalf of, AU.