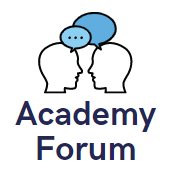 We're really excited to announce our forthcoming Academy Forums for 2022-23. Building on the success of last year's sessions, and based on feedback, we've increased the number of Academy Forums on offer, with 10 running across the academic year.
For those of you unfamiliar with Academy Forums, they're informal discussions that bring colleagues together from across the University. In each session, we'll look at a particular topic related to Learning and Teaching. We'll facilitate the discussion and also provide resources and guidance following the Academy Forum. We then make these available on our webpages. Take a look at last year's Academy Forum topics:
This year, we are seeing a return of some in person Academy Forums as well as having some run online via Teams. You can view the dates, session descriptions, and book your place on our booking page for the first three sessions – keep your eye out for future sessions.
We'll be starting our Academy Forums with a discussion around Student Induction. We'll be thinking about how you prepare students to study. What types of activities do you run in week 1 of your module to familarise your students with the content? Also, we'll be asking colleagues to share with us how you might use technology in these interactions.