By Joseph Wiggins
Aberystwyth University has once again run the Students Digital Insights Survey, a survey that asks learners the impact of online and technology implemented learning. This year over 600 students at Aberystwyth University took this survey.
The Key Metrics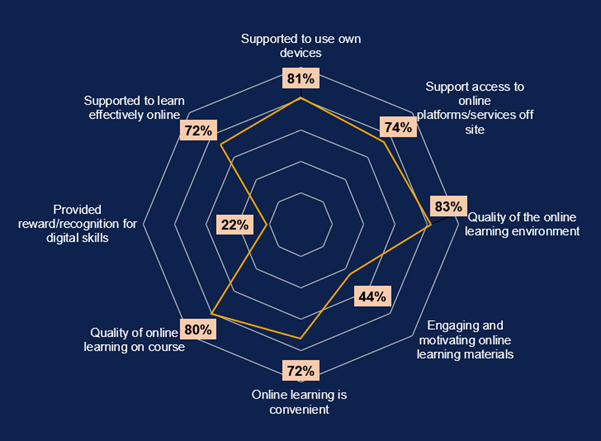 The JISC survey has changed in the last year with some of the key metric questions being changed, for the questions that have stayed very similar or the same we can compare to last year's results.
| | | |
| --- | --- | --- |
| Key Metric | 2020-2021 | 2021-2022 |
| Supported use of own devices | 60% | 81% |
| Access to online platforms off-site | 67% | 74% |
| Online learning environment | 40% | 83% |
| Quality of online learning on course | 69% | 80% |
In a majority of these key metrics we saw a positive increase with Aberystwyth University having improved from the previous year. This trend of improvement is mirrored throughout the survey results. In the case of questions which changed in the key metrics a lot of them are incomparable because of the changes made. For example, last year asked about 'Well-designed' online learning materials. This was changed to 'Engaging and motivating' online learning materials. With online learning trends questions relating to motivation are typically exceptionally more negative, making questions that use these adjectives much more negative.