When you come back for next academic year, your new courses in Blackboard will look a little different. From September 2023, all new courses in Blackboard will be Ultra courses.
We've been using Ultra Base Navigation (UBN) in Blackboard since January 2023, and we know that many of you have found it easier to use – especially on mobile devices.
Ultra courses have the same accessible and mobile-friendly design as UBN – here's what an Ultra course looks like: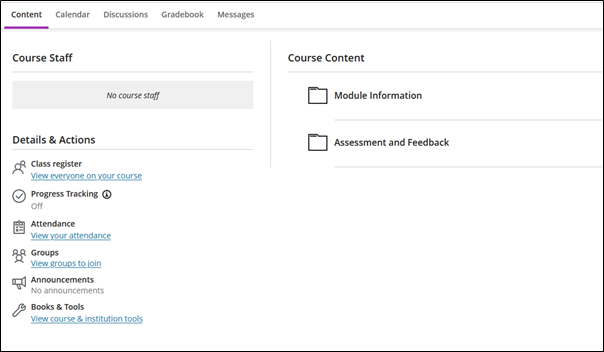 Because of the way it's designed, an Ultra course never has more than two levels of folders – this makes it much quicker and easier to find your course materials and assignment submission links. And there's also a search tool inside every course.
We've also redesigned our course template to make sure it uses the language that the course is taught in. If your module is taught in Welsh, your course template will now be in Welsh. And bilingual modules have a bilingual course template.
There's lots of information about Ultra on the Blackboard website, including an introduction to navigating your way round an Ultra course (note – the video on this page is on an external site and only available in English).
All your previous years' courses are still available – so if you need to look back at old course materials, you can do that too.