Over the last few weeks, I've been taking a FutureLearn course called Using Technology in Evidence-Based Teaching and Learning. It's run by the Chartered College of Teaching and focuses on the use of learning technologies in primary and secondary education. Although the context is different to higher education, it's been a really interesting and enlightening course. It's been useful to find out more about the education system that our students have come from, and it's also good to find out about different tools and technologies that we may not use so much in universities.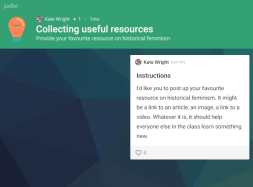 One of the tools that teachers in school use a lot is called Padlet. We know that Padlet is used in universities and there may be Padlet users amongst our readers. However, it wasn't something that I'd used much, so I decided to take a look at it.
Padlet (https://padlet.com/) describes itself as 'productivity software' which makes collaboration easier. It's designed around the idea of a wall or a board, to which you and users can add cards or notes. The cards can contain text, images, links, videos and files.
To create a Padlet board you will need to create an account – you can have a free account, which provides you 3 boards and an upload of 10Mb. You will also see adverts on this free version. You can sign-in with Google or create your own account. Students can contribute to the boards without creating an account, although if you want to know what who has posted what they will need to set-up an account. Boards can be private or public, and you can control who you invite to post to the boards. (Have a look at our post on polling software and privacy considerations)
There seem to be two uses that are obvious for Padlet – the first is for curation or research type activities, and the second is for collecting feedback for students.
You can find lots of case studies of schools, colleges and universities using Padlet to allow students to collaboratively collect resources and materials. This could be for group presentations and projects or for seminar preparation. A nice example is with Foundation Year Psychology undergraduates at University of Sussex (https://journals.gre.ac.uk/index.php/compass/article/view/714)
Many of us may also have seen Padlets used to facilitate interaction in lectures or presentations. Students can post up their questions to a Padlet wall during a lecture allowing the lecturer to view comments and questions. Used in this way, Padlet has some of the same tools as other polling software. While it doesn't allow participants to answer questions, it's a great way of collecting text-based responses. And these can be used later, or archived for future reference.
There's a very useful set of resources from University of Derby (https://digitalhandbook.wp.derby.ac.uk/menu/toolbox/padlet/). Do be aware that this contains information specific to Derby staff, but you should find the ideas useful. If you're already a Padlet users, do get in touch; we're always looking for guest bloggers. Also, you may want to consider putting in a paper proposal for July's Learning and Teaching conference.