The Learning and Teaching Enhancement Unit has been working to confirm the templates that will be used in new Ultra courses.
Unlike previous years, there will no longer be departmental templates. Following the decision by Academic Enhancement Committee and consultation with Associate Deans of Welsh-Medium Academic Provision, 3 templates have been created for Ultra:
Welsh template
English template
Bilingual template
The template that your course will have is determined on the language of delivery for the module recorded in AStRA.
Courses with language delivery of 100 Welsh will be created with a Welsh template. Courses with NULL or 0 will have an English template. If the score is between 1 and 99, a bilingual template will be used. Unlike Blackboard Original Menus, the course templates can be edited by instructors.
The course content template is comprised of 3 folders:
Gwybodaeth am y Modiwl / Module Information
Asesu ac Adborth / Assessment and Feedback
Arholwyr Allanol / External Examiners (hidden)
An image of the bilingual template is below: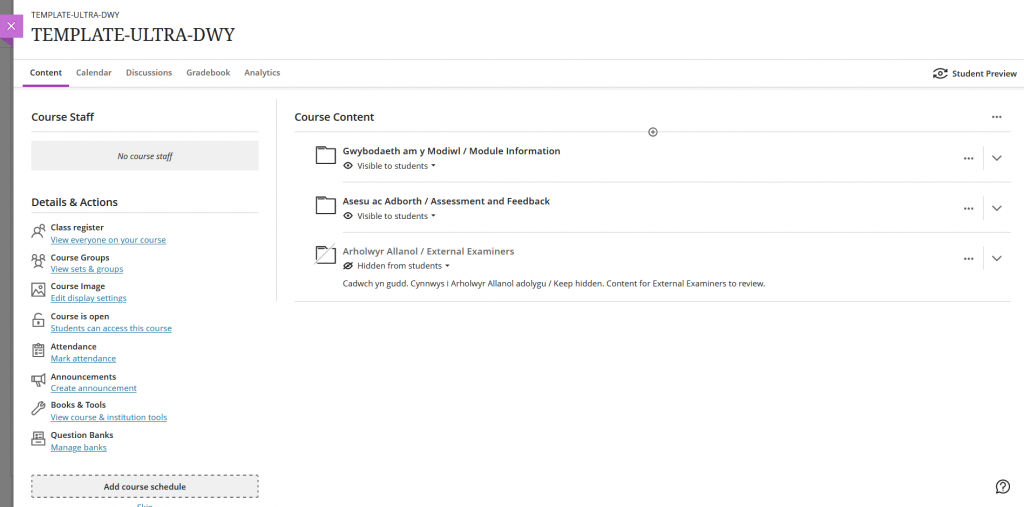 The next stage in our Ultra Project is to create practice organisations for all staff. These organisations will be a space where you can look at Ultra functionality and copy course content from existing modules. We will also be making use of these practice organisations in our staff training programme that will be communicated with you over the coming months.
If you have any questions about the Ultra project, then please contact the Learning and Teaching Enhancement Unit (elearning@aber.ac.uk).