Now that the templates have been confirmed we have created an individual Ultra Practice Course for all staff members.
This practice course is private to you and has no students enrolled on it. You can use this course to create content and try out the new Ultra course interface.
You will find your practice course by going to Organisations on the left-hand side menu: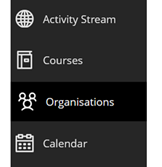 The course has been created with the bilingual AU course template. For further information on course templates, see our previous blogpost. They will be named your name Cwrs Ymarfer Ultra / Ultra Practice Course.
To help prepare you for Ultra courses next academic year, try the following:
You'll notice that you can drag and drop content much more easily in Ultra. Additionally, you can choose where you add content (without newly created content defaulting to the bottom of the page).
As Ultra is much more fluid than Blackboard original, your approach to content organisation is essential to help students navigate the module. Make sure that you use the preview features so that you can get an idea of how the content looks to students:

It might be that you want to discuss content organisation with colleagues to see if there's departmental approach that you want to take.
We will be using these practice organisations for training purposes over the coming months. Keep an eye on our blog and webpages for additional information as further guidance is produced.
We'll be blogging additional tasks over the coming months for you to try in your Ultra practice course. In our next blogpost of this nature, we'll be taking an in-depth look at the Grade Book, Assignments, Turnitin, and Blackboard tests.
If you've got any questions about the move to Blackboard Ultra, please contact the Learning and Teaching Enhancement Unit (elearning@aber.ac.uk).