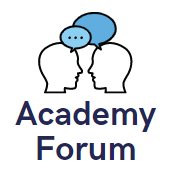 Our next Academy Forum will be taking place online on Thursday 2nd December, 10am-11.30am. In this Academy Forum, participants will be sharing their experiences and approaches to designing blended learning.
In response to the pandemic, many of us had to adapt our teaching practices considerably. For most, this relied on an increase in the use of technology and online activities for students to undertake in their own time asynchronously. Blended Learning design looks at how you might approach or integrate online interactions with face-to-face teaching.
Participants will be reflecting on their current approaches to teaching and how they design online and face to face activities. We'll be looking at some frameworks that will be helpful in planning for blended learning and be thinking about strategies for successfully and gracefully integrating online teaching into face to face interactions, and face to face interactions into online teaching.
Take a look at our overview of forthcoming Academy Forums and book your place online.
If you have any questions, then please contact us: lteu@aber.ac.uk.