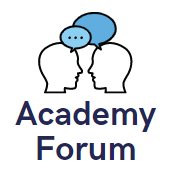 We're really excited to announce our forthcoming Academy Forums for 2022-23. Building on the success of last year's sessions, and based on feedback, we've increased the number of Academy Forums on offer, with 10 running across the academic year.
For those of you unfamiliar with Academy Forums, they're informal discussions that bring colleagues together from across the University. In each session, we'll look at a particular topic related to Learning and Teaching. We'll facilitate the discussion and also provide resources and guidance following the Academy Forum. We then make these available on our webpages. Take a look at last year's Academy Forum topics:
This year, we are seeing a return of some in person Academy Forums as well as having some run online via Teams. You can view the dates, session descriptions, and book your place on our booking page for the first three sessions – keep your eye out for future sessions.
We'll be starting our Academy Forums with a discussion around Student Induction. We'll be thinking about how you prepare students to study. What types of activities do you run in week 1 of your module to familarise your students with the content? Also, we'll be asking colleagues to share with us how you might use technology in these interactions.
Our second Academy Forum, How are students using technology at Aberystwyth University?, will be based on the findings of the Digital Experience Survey that LTEU co-ordinates. We'll share some of the key messages with you and you'll be given the opportunity to apply it to your own contexts.
Over the last few years we've seen an increase in the work around Wellbeing in the Curriculum and this is the topic for our third Academy Forum. 18 months ago, we organised a mini conference on this topic and we are using this as an opportunity to see how far we've come and reflect on the work that still needs to be done.
For our fourth Academy Forum we've got our first two part-er. We'll be looking at Digital Insights in a session facilitated by our colleague, Dr Sioned Llywelyn, Digital Capabilities Officer. You'll have already heard about some of the initiatives that Sioned is involved in, including LinkedIn Learning and the JISC Discovery Tool. Our ninth Academy Forum will be a follow up to this.
In the new year, we'll be kicking off with Strategies for Feedback Engagement, our fifth Academy Forum. We all spend a lot of time giving students feedback on their assignments and we'll be exploring different ways in which to capitalise on this feedback and ensure engagement.
Building on Feedback Engagement, we'll be using the sixth Academy Forum to look specifically at Formative Assessment and how we might make use of some of the tools available to us in our E-learning technologies to design these, drawing on peer assessment as well.
Instilling reflective skills is integral to developing self-regulating students. Academy Forum 7 will look specifically at how we might use technologies, such as blogs, discussion boards, and journals for reflective activities that will help scaffold these skills. We'll share with you some case studies from across AU that have really helped develop this.
One of the common questions we get asked is how we might make use of technologies for group assessments. Group assessments are notoriously tricky to create and support. We'll take a look at the assignment marking criteria and draw on concepts from Authentic Assessment discussion to help consider how we can better integrate technology into this type of activity.
Finally, following our follow up to Digital Capabilities, our tenth Academy Forum will look at Equality and Diversity in the Curriculum. A topic that has received much attention over the past few years, we'll consider how we can help further inclusion and share strategies with one another on successful teaching interventions.
Do drop us an email (lteu@aber.ac.uk) if you've got any questions about our Academy Forums and we look forward to seeing you in a session or two over the next year.