One of the most anticipated features in MS Teams has finally arrived…. Breakout Rooms! Breakout rooms allow meeting organisers to create and name up to 50 separate rooms within scheduled and 'meet now' meetings. Organisers can then assign attendees to those rooms either automatically or manually.
We will be releasing guidance on how to create and manage breakout rooms (for staff) and how to participate in breakout rooms (for students) next week. For the time being, here is a guide from Microsoft on how to create and manage breakout rooms in Teams.
What does the icon for breakout rooms look like?
The icon for breakout rooms is displayed as two boxes (as is highlighted below by the blue box). This should appear on your control bar.


Why can't I see this icon?
If you are not able to see this icon, there are two likely reasons:
1. Only meeting organisers can create and manage breakout rooms. If you are not the meeting organiser, then you will not be able to create and manage breakout rooms in Teams and you won't see the icon during that meeting.
2. MS Teams might not have automatically updated. To do this yourself, click on your image from the top-right hand corner of the screen (see yellow box on image below) and then select 'Check for updates' (see orange box).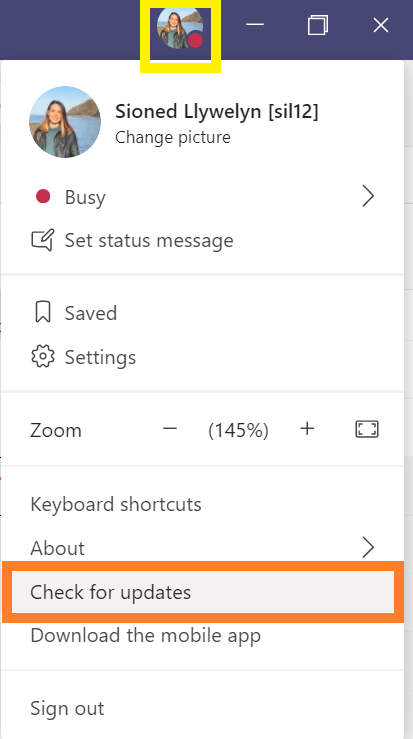 If you have any questions about using Teams, please contact Information Services (is@aber.ac.uk).