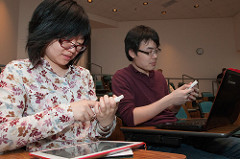 In-class polling or voting is great way to increase student engagement and interactivity in the classroom (for example see: Shaw et al, 2015; Boyle and Nicol 2003; Habel and Stubbs, 2014; Stratling, 2015). It is used widely in both higher and further education, and number of staff at AU make use of in-class polling on a regular basis. In addition to physical Qwizdom handsets available in loan stock, staff are more and more using online polling services such as Poll Everywhere, Socrative and Mentimeter (amongst others). These services allow students to use their own devices (such as mobile phones, tablets and laptops) to take part in polls, give feedback, and ask questions.
The E-learning Group can provide a wide range of information and support for anyone interested in using polling in their teaching. This ranges from advice on how to embed polling into your teaching practice successfully, to practical help on creating and using polls in the classroom.
At present AU doesn't offer a centrally supported online polling tool for mobile devices. However, there are a wide range of services available, many with free or trial versions. This blog post is designed to help you assess which tool suits you and your students' best.
What do you want to do? As with all learning technology implementation, the first question you need to ask is 'what do I want my students to do?' The service you select will depend on the answer you have. For example, if you want your students to submit questions, or provide written feedback, look for a service that offers more than multiple choice questions.
How many students will be in the class? Many of the free or limited versions of paid-for software have a limit on the number of students they can be used it. Look carefully at the details of what the free version does or doesn't include.
We also strongly recommend that you look at the Privacy Policy of the service to ensure you know what personal data is collected about you and your students (have a look at our blog post on this issue).
The E-learning Group has produced some information on some services which you may want to look at.
Once you have decided on which service you are using, here's some of our top tips on successfully using voting in the classroom
Think about your question/s. There's lots of resources on designing good questions, particularly multiple choice questions. Don't feel that you have to ask a question that has a correct or incorrect answer. Sometimes a question that sparks debate or shows the breadth of opinions on a subject can be useful.
Using polling as a discussion starter. There are a variety of ways that you can use polling and group discussions together – two popular ways are Peer Instruction (especially the work of Eric Mazur) or Class-Wide Instruction (Dufresne, 1996)
Practice. Have a practice before the session so that you are comfortable and familiar with using the questions and displaying the results. You can do this from your office using a mobile device such as a tablet or mobile phone.
Make time in the lecture. If you are using polling activities in the classroom, make sure you leave enough time to give students to access on their devices, think about the answers and respond. You may also need time to correct misunderstandings or explain the answers.
Let your students know in advance. Make sure that your students know to bring their devices and have them available in class. You can do this using the announcement function in Blackboard. You can also provide links to relevant FAQs such as how to connect to the AU wifi (Android: https://faqs.aber.ac.uk/index.php?id=692, Windows: https://faqs.aber.ac.uk/index.php?id=870, iOS: https://faqs.aber.ac.uk/index.php?id=700 )
There are a whole range of opportunities for using polling – from collecting information on how much the students know at the start of a module, to finding out what topics you need to cover in a revision session. You can also collect opinions, gain feedback on how the lecture is going, or collect anonymous questions. If you're using polling in your teaching get in touch and tell us more – we may even feature your work on the blog!