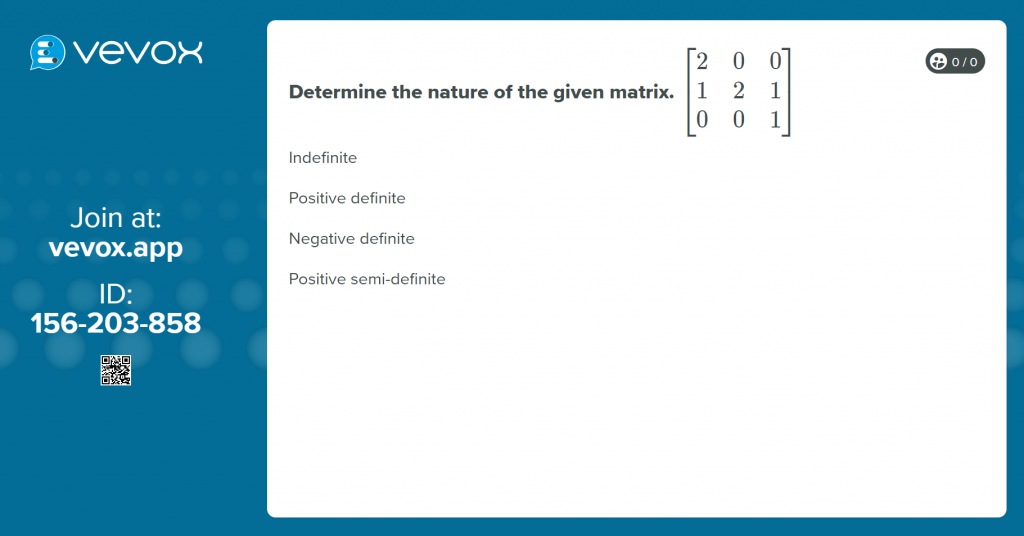 On 21 March Vevox, the University's polling software, will be having an update with some additional functionality.
We're really pleased to be able to see some of the developments as they are requests that we have placed to Vevox on behalf of you.
Firstly, for distance learning practitioners and those who want students to undertake self-paced polling, there's the introduction of self-paced quizzes to the survey tool.
You'll just need to create a survey and then add a correct answer. Students can do this anonymously or you can choose to identify them.
The Q and A boards are still underused a little here at AU, but there will be the option to tag questions and comments. Will be useful for those of you who are co-delivering a presentation and want to allocate specific questions to a presenter.
Further information on new Vevox functionality can be found on their update blogpost.
We have regular contact with our Vevox account managers. They've already assisted in creating bilingual aspects and have reached out to us for further discussion on how this could be developed further. Also, some enhancement requests that we've asked for include:
Scatter graph of the X Y question
An order or sequence based question
A reminder to the mathematicians amongst us that LaTex is available in your question types.
Vevox is not limited to learning and teaching activities. All members of the University can log in and use Vevox. If you're running a meeting and want to poll attendees, then Vevox could be for you. Check out their recent case studies on how to make meetings interactive with Vevox.
If Vevox is new to you, then we've got guidance on our webpages. Vevox runs 15 minute training sessions – sign up online. We're always up to hear about anything innovative you're doing with Vevox so drop us a line if you're doing something exciting.