Hector, our AberForward who has been working with us to support the Annual Learning and Teaching Conference, has pulled together a list of resources inspired by the talks at the conference. If you want to watch any of the sessions again, then you can do so on our webpages.
Conference Keynote: Dr Chrissi Nerantzi
Our conference keynote was definitely a highlight. Chrissi asked conference attendees the following questions. Below are the results from our conference delegates: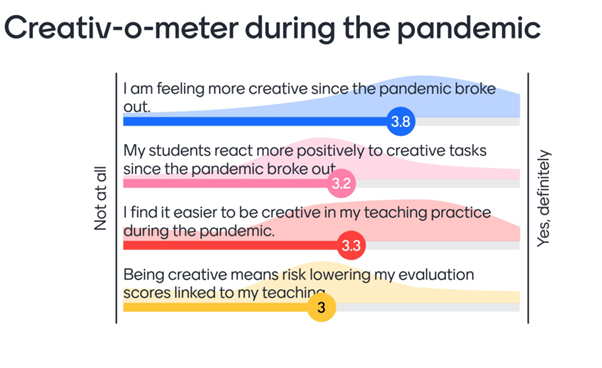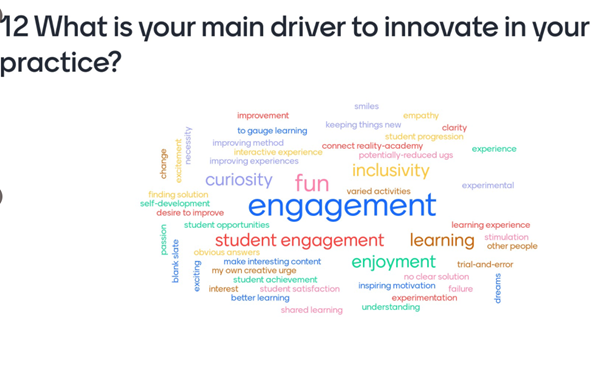 If you're interested in reading more about Chrissi's work, then take a look at the following webpages:
You may also be interested in the following publications:
Digital Skills Strategy Launch Tim Davies, Julie Hart, Lauren Harvey, & Siân Furlong-Davies
We were introduced to the new digital skills strategy, which also highlighted the University's recent procurement of LinkedIn Learning and an overview of the results from the recent Digital Insights Survey.
Take a look at the Digital Skills initiative on our webpages. Check out our LinkedIn Learning resources.
Experiences in creating accessible, interactive web-based learning resources, Neil Taylor
Neil's a lecturer in Computer Science who has been creating accessible and interactive web-based learning resources.
You can take a look at the work that's been done on the Department's Citation and Referencing webpages and also see the guidance on offer for students' Major and Minor projects.
Dialogic feedback in online group tutorials, Mary Jacob
Mary Jacob, Lecturer in Learning and Teaching in the Learning and Teaching Enhancement Unit, gave an overview of the work that she's been doing with participants on the PGCTHE.
The Dialogic Feedback in Online Group Tutorials handout gives an overview of the changes that have been made to feedback activities via MS Teams so as to build a learning community and also promote inclusion amongst participants.
What will assessment look like in five year's time? Andy McGregor, JISC
Andy ran a workshop introducing participants to what assessment might look like in five years' time. Participants were given two tasks: Task 1: Imagine you are a first-year undergraduate student starting at Aberystwyth University in 2022. What would represent an ideal assessment experience during your first year?
Task 2: Imagine you are a first-year undergraduate student starting at Aberystwyth University in 2030. What would represent an ideal assessment experience during your first year?
You can read more about the work that JISC have been doing around assessment design with the following resources:
Active learning about changing environments in a time of change: lessons from some DGES modules, Professor Stephen Tooth
Stephen gave attendees an overview of the active learning that he's been doing with his students on his Masters module.
This handout gives an idea of the types of Active Learning activities that Stephen has been doing.
Stephen drew inspiration from Kate Exley's workshop on Taking your (PowerPoint) Lectures Online.
In addition to this, Stephen used Becoming a Critical Thinker: For your university studies and beyond – Oxford University Press (oup.com) to help with the design of these activities.
Immersive learning in virtual 3D: fieldtrip to Cadair Idris, Dr Tristram Irvine-Fynn
Tris gave us an overview of the technology that he has been using for online fieldtrips for students. Tris used RoundMe to create an immersive and interactive experience.
You can view Tris' virtual tours via the following links:
Lessons Learnt: How Blended Learning Impacts Neurodiverse Students Kittie Belltree, Mary Glasser, Cal Walters-Davies, & Caroline White
Colleagues from Student Support services joined us to run a workshop on designing blended learning with neurodiverse students in mind.
Their guidance is built on Miranda Melcher's guide: Teaching to Include Everyone: A Practical Guide for Teaching Neurodiverse and Disabled Students.
Massive thank you to all our speakers for joining us at this year's Annual Learning and Teaching Conference. It was great to have so many people join us and we're looking forward to celebrating our tenth conference with you next year.