The second case study on using interactive Blackboard tools showcases effective use of tests for summative and formative assessment by Dr Ruth Wonfor from IBERS.
What tool do you use and how?
I use Blackboard tests for either formative or summative tests in most of my modules.
Why did you choose this tool?
I've chosen to use Blackboard tests for a variety of reasons. For summative tests, I have used these in a first year module on anatomy and physiology. This module provides a lot of foundation knowledge on basic biology that is used by students in future modules, therefore I wanted to design an assessment that would enable me to test a wide variety of topics across the module that meets quite a broad learning outcome. The use of multiple choice tests has worked really well for this and it fits really nicely with the work I do in this module to try to get students to use flashcards in their learning. Students can really see the benefit of the flashcards through this test.
For the formative assessments, I have chosen to use Blackboard tests for quite a range of reasons. I have previously tended to use them to allow students to test their knowledge at the end of a topic. However, whilst we have been teaching online I have started to use them to ask questions that I would have asked in the lecture to check understanding. This has been great to help me to structure the learning and ensure that students aren't rushing onto new sections without fully understanding what they needed to in the previous section.
How did you design the activity using this tool?
How I design the Blackboard tests very much depends on what I am using them for. The summative tests are quite rigid with only multiple-choice questions. I tend to use standard question formats, such as choose the correct answer to a question, choose the correct statement or what structure is the arrow pointing to on an image. Whilst students have been able to take this test at home during Covid-19, I have also introduced some short answer questions into the multiple-choice test. These have worked really well to prevent students just looking up every multiple-choice answer and giving a good marks distribution.

For the formative tests I use a wider range of options in the questions to fit what I want the students to learn. For example, I've used the matching questions after going through terminology, so that student have to match the terms with the correct description. I also try to use the feedback in these formative tests to get the students to direct their learning. So instead of telling students that they have answered a question incorrectly and what the correct answer should have been, I instead use the feedback to direct the students to the slide or section of the lecture where they can find the answer, hopefully encouraging students to structure their learning and revision further.


Finally, whilst we have been teaching online I have found adaptive release combined with the BB tests really useful for structuring topics. I often start some lectures with a bit of revision of information that they should have covered in previous modules that is the basis of the topic we are covering in that session. Therefore, I've used BB tests to cover this revision. I use the feedback to direct the students to further information if they need to brush up their knowledge and then use adaptive release to only release the topic to them once they have attempted the revision quiz. The students get clear instructions that they need to have a go at the quiz and then they will get access to the lecture topic. This seemed to work well and so it is something that I hope to keep in place for future years so that I can remove the revision from the lectures, allowing more time for application of the knowledge gained in the lectures.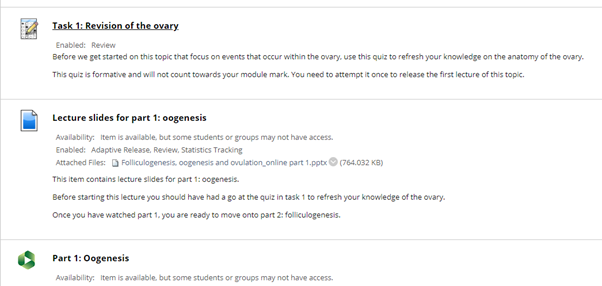 What do your students think of this tool?
I've had pretty good feedback from students about the use of the BB tests, a lot have said that they have found them really useful to help them revise and go over topics to understand where they need to put more effort into their further study. I've also helped to reduce student anxiety about the final summative test by using formative tests throughout the module. As the summative test I use is on a first-year module in semester 1, students are often quite anxious about what to expect at university level. I can therefore direct them towards the formative tests as examples of the level of questions that they will be expected to answer in the exam.
Do you have any tips for people who want to use this tool?
My main tip would be to allow yourself a fair bit of time to construct the tests. The initial start up to write good questions and feedback for the students takes a while. However, once you have spent that time, you have the tests ready to roll out each year. It is well worth the time spent to help the students and get an idea of their understanding and where you may need to clarify topics again. Also make sure that you take the tests yourself! I've noticed a few mistakes or questions that need further clarification when taking the test myself and it's really useful to see how the student will see the final question formatting in their view.
We would like to thank Dr Ruth Wonfor for sharing her experiences of using Blackboard tests.
If you like to learn more about tests please take a look at the Blackboard Tests – Creating Online Assessment Activities for your Students post and the FAQs.
If you are planning to use Blackboard tests for online examination, please get in touch with us at elearning@aber.ac.uk.