We are pleased to present the first case study on using interactive Blackboard tools featuring the use of discussion boards by Dr Martine Garland from Aberystwyth Business School.
'Discussion boards were thus a way of recreating the discussion we may have had in class, this led to over 900 posts during the semester.'
What tool do you use and how?
I use discussion boards on a core 1st year marketing module with 97 students. They are used in a very structured way to provide students with an opportunity to apply a theory, model or framework they have just learnt about. I found that with the blended approach adopted in response to Covid-19, students were studying recorded asynchronous content out of synch with the week in which it was intended they should study the topic. This meant that in live MS Teams sessions it was difficult to use that time to do topic specific exercises and create debate as many students had not yet covered the topic. Discussion boards were thus a way of recreating the discussion we may have had in class, this led to over 900 posts during the semester.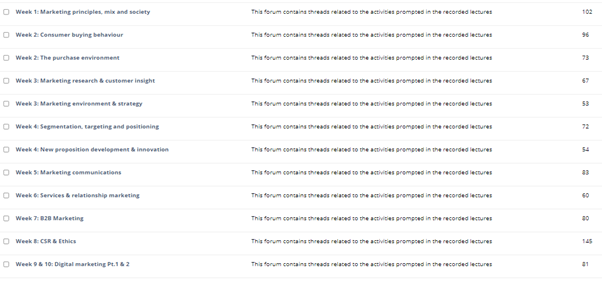 Why did you choose this tool?
I chose this tool as it was very straightforward to embed into the asynchronous learning structure and to signpost students to it at the relevant moment in their studies. Each recorded lecture had three 'discussion points' that were designed to meet learning outcomes related to application of learning. Having worked through online learning content on a topic, the discussion point asked them to share their experience or a relevant example, and to enter into deeper conversation about the real-world application of a theoretical construct.
How did you design the activity using this tool?
In the PowerPoint of the recorded lecture, I used a consistent icon to indicate discussion, then included directions that they should pause the video, make some notes, then when they have finished the lecture, go to the 'discussion space' and share their thinking.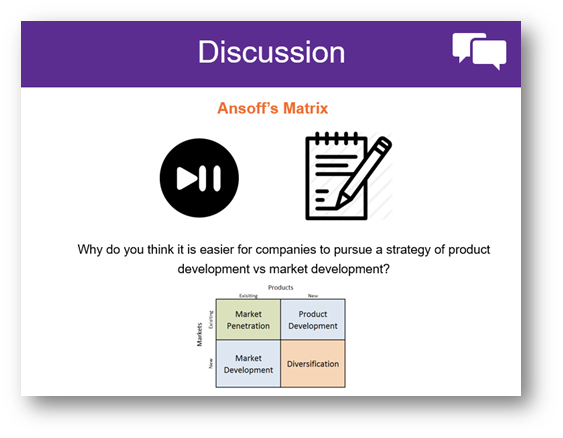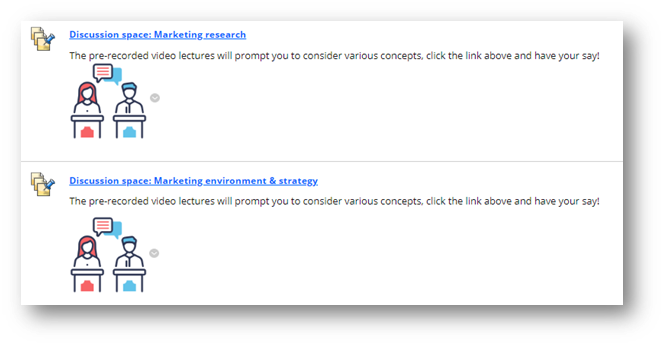 I also used the discussion board functionality to set and receive 'collaborative task' activities. They could read the brief at the top of the thread, and they then posted their groups outputs in the thread. It was termed the 'Collaboration site' but was just using the discussion board tool.

What do your students think of this tool?
I think it was mixed, some students didn't engage at all, although the majority did (bear in mind they were awarded marks for participation and engagement). Several students cited the discussion boards in their MEQ feedback:
"I absolutely loved this module. the teacher was exemplary, and she was very focused throughout the module. The discussion board was the best part of module as it gave us the space to apply the theories. overall, one of the best modules in my first year."
"With everything going on, this module has been run very well this semester. Lots of online content to do and discussion forums for students to discuss the topics covered has made it a very engaging module."
Do you have any tips for people who want to use this tool?
Make it very clear what you are asking them to do and where they can find it. Encourage students to upload an avatar so the discussion is not so faceless. Certainly for year 1 modules, consider awarding marks for participation an engagement in things like discussion boards, wikis etc. Blackboard reports provide you with a quick and easy way of seeing who is doing what, where and when.
A huge thank you to Dr Martine Garland for sharing this case study. If you like to learn more about discussion board please take a look at the Blackboard Tools for Group Work (Blogpost 4): Discussions post and the discussion boards FAQs.