Teaching staff at Aberystwyth University make excellent use of basic functions of Blackboard keeping it consistent and easy to navigate, meeting the needs of their students. Some staff go beyond Blackboard Required Minimum Presence, using additional, interactive functions in many different creative ways. Considering the current emphasis on online learning and the use of asynchronous online activities we would like to introduce you to some of the more advanced (although still easy to use!) tools in Blackboard:
Journals and Blogs
Wikis
Tests
We have already written about discussion board – perhaps the most versatile of all the Blackboard tools. In this blog post we will focus on blogs and journals and the value these tools could bring to your teaching.
Both journals and blogs, typically written in an informal way, are tools conducive to reflection and personal expression. The difference in their use is determined by whether or not they are aimed at being shared with others. Journals in Blackboard can be set up in two ways:
Private journals cannot be anonymous, are seen only by the lecturer and the student who wrote it, if enabled other students may view them but not comment or edit.
Group journals enable students to write individual entries into one group journal, group members can view and comment on all entries.
Watch a tutorial on creating journals
Blogs, on the other hand, can take three different forms:
Course blogs are blogs accessible to all students on the module, students can contribute their individual entries to the common blog and comment on other users' posts.
Individual blogs are available for all students to view and comment on, but unlike with the course blogs each student has their own blog rather than contribute to a common one.
Group blogs can be added to only by group members but can be viewed and commented on by all.
Watch a tutorial on creating blogs
Why use blogs and journals?
When asked what value can using blogs and journals bring to their teaching the attendees of the recent E-learning Enhanced session answered:

Using blogs and journals can help students to reflect not only on what they learn but also how they learn. By showcasing their experiences and sharing their thoughts with classmates, students can facilitate each other's progress and contribute to a sense of community within the virtual learning environment. As described by Sedlack (1992) journal writing can be used to promote active engagement and self-directed learning by encouraging students to take responsibility for their progress. The journal and blogs tools in Blackboard allow for monthly or weekly indexing which can additionally support the process-oriented reflection.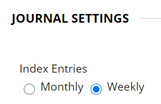 Ritchie (2003) emphasised also how providing individualised and ongoing feedback to students enhanced the relationship between the teacher and the students. Similarly to journals, blogs have been recognised as a useful tool in encouraging personal reflection, but also collaboration and empowering students to develop and express their own opinions. As described by Mortensen and Walker (2002 cited Lamshed, Berry & Armstrong, 2002) blogs contribute to, not only the formation of views but also to a reflection on how these can be perceived by others. The conversational nature of blogs promotes greater relatedness and therefore contributes to active learning (Ferdig &Trammel, 2004).
This blog aimed at presenting the value of using blogs and journals. In further parts of this series, we will look into journals and blogs design and explore a good practice case study.
References
Davies E. (1995). Reflective practice: a focus for caring. Journal of Nursing Education. 34, 167–174.
Ferdig, R. E. & Trammell, K. D. (2004). Content delivery in the 'Blogosphere'. Technological Horizons in Education Journal. Retrieved from http://www.thejournal.com/magazine/vault/articleprintversion.cfm?aid=4677
Lamshed, R., Berry, M., & Armstrong, L. (2002). Blogs: Personal e-learning spaces. Retrieved from http://www.binaryblue.com.au/docs/blogs.pdf
Oravec, J. (2002). Bookmarking the world: Weblog applications in education. Journal of Adolescent and Adult Literacy. 45(7), 616-621.
Richie, M. A. (2003). Faculty and student dialogue through journal writing. Journal for Specialists in Pediatric Nursing. 8, 5–12.
Sedlak, C. A. (1992). Use of clinical logs by beginning nursing students and faculty to identify learning needs. Journal of Nursing Education. 31, 24–28.
Walker, S. E. (2006). Journal Writing as a Teaching Technique to Promote Reflection. Journal of Athletic Training. 41(2), 216-221.