Today (30/07/2018) the first two departments had their blank level 0 and 1 modules created as part of the blank course copy process. IBERS, closely followed by International Politics, have agreed their departmental templates and their modules are now ready to be updated. This is nearly a quarter of all the level 1 and level 0 modules running in 2018-19 academic year.
Staff from the E-learning Group have worked with each department to explain the process and help them decide which additional menu items to add to the core template. The modules are now available, and staff can start adding or copying over teaching materials. There's an FAQ about how different items can be copied over.
2018-19 modules can be found on the 2018-19 Modules tab which is now available on the My Modules page.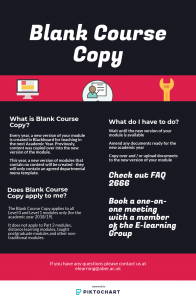 A big thanks to Mike Rose and James Vaughan who have worked with the E-learning Group through this process. If you're a member of staff in either International Politics or IBERS and you want any help setting up your new module, take a look at the FAQ, or contact elearning@aber.ac.uk and we'd be happy to help you.
If you're not sure what Blank Course Copy means, have a look at our infographic or email elearning@aber.ac.uk