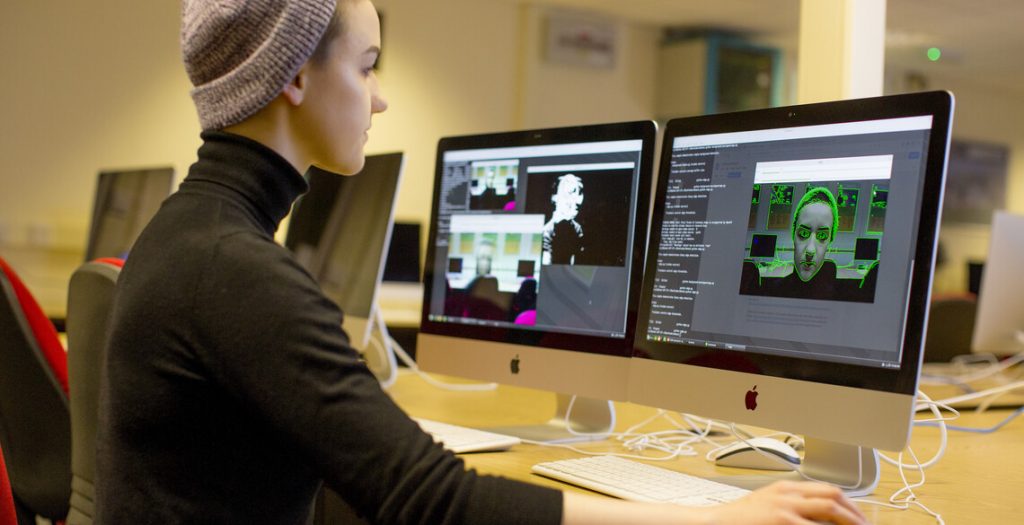 On 28 March, the Learning and Teaching Enhancement Unit hosted their first mini conference of the year in person.
The mini conference's theme was Virtual Reality. The conference materials are now available on our webpages.
The conference started with a keynote by Chris Rees who is the Executive Head of Digital Creativity and Learning Unit at University of Wales Trinity St David's. Chris gave an overview of how UWTSD have been using two newly created immersive rooms (Swansea and Cardiff), with activities ranging from virtual reality gym training through to architectural walk throughs and health and safety training.
The conference then shifted to hearing how colleagues at AU are currently using VR in their learning and teaching. Amanda Jones and Bleddyn Lewis gave an insight into how the Healthcare Education Centre is using Wales' Virtual Hospital. Education's Steve Atherton makes use of VR in several modules, including placing students in different education contexts – from refugee camps through to Montessori education settings. After lunch, Helen Miles and Andra Jones (Computer Science) and Rebecca Zerk (Dewis Choice Project / Law and Criminology) ran a workshop outlining the challenges and benefits to VR. Participants also got the opportunity to sample the Dewis choice project using VR headsets.
What emerged from the event is that lots of colleagues are using VR in their learning and teaching. We're looking at creating a space for colleagues to come together to discuss their approaches to VR. We've set up a Teams site. If you're interested in Virtual Reality and would like to be added to the Teams site, email the Learning and Teaching Enhancement Unit (lteu@aber.ac.uk)