Information Services is working to re-introduce neck microphones in teaching rooms.
For those who are new to the institution or would like a refresher, neck mics are hooked up to the audio systems in teaching rooms, worn around the neck of the presenter, and can be used for Panopto recordings and Teams Meetings. Take a look at our FAQ on how to use the Neck Microphones.
Health and Safety Information
The reintroduction of neck microphones means that some additional hygiene guidance needs to be followed:
Regular hand hygiene helps to reduce transmission of illnesses and diseases; please wash hands regularly and use the hand sanitisers on entry to buildings.
To reduce contact points, only one person should use the neck microphone in a teaching session
The neck microphone should be wiped down with wipes effective against COVID-19 as per other equipment before and after its use
Although the neck mic gives staff greater freedom to move around the teaching room, staff are encouraged to maintain physical distancing of at least 2 metres, where possible, and maintain good hand hygiene practices before and after handling the neck mics (as noted in the Aberystwyth University COVID Risk Assessment October 2021).
In most rooms, the lectern microphones will also stay in place and can still be used (provided staff stay near the lectern). In a small number of rooms, only a neck microphone will be available.
How will the rollout be managed?
Changes to the teaching rooms will be taking place gradually so you may notice the reintroduction of the neck mic imminently. All neck mics will be in place ready for the start of teaching in Semester 2.
Use the neck mic in Panopto
The neck mic can be used on your Panopto recording. When you start Panopto, change the microphone to Neck Mic by clicking on the dropdown menu to the right of the Audio field in the Panopto recorder: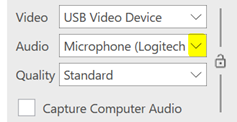 Use the neck mic in Teams Meetings
The neck mic can be used as the microphone Teams meetings. To change your microphone in the Teams meeting:
Select the … more options button:

And then Device Settings
Under microphone select Neck Mic.
Further Help
We've got our Teaching Room Guide 2021-22 which outlines how to use the teaching room equipment. If you are having difficulties with the teaching room equipment in a centrally timetabled teaching room, pick up a phone and it will come through to the workshop.
Contact us if you have any questions (is@aber.ac.uk).