We have recently had an opportunity to deliver 'Make the most of your online learning' sessions to Peer Guides, Student Representatives as well as Residential Assistants. These sessions focused mainly on introducing students to resources which are available to them: Supporting your Learning module on Blackboard (which will shortly be rolled out to all students); and the Quick Guide to Student Success.
We have also taken these opportunities to ask students: 'What else can we do to support your learning?'. We would like to share with you some of the feedback we received along with suggestions on how these could be addressed:
Assignment extensions
Although this is not something that can be resolved by teaching staff, it may be worth including a link to the Course Extensions information along with other assessment related information.
Clear structure
Some students expressed difficulties in navigating their workload related to online learning and a need for a clearer structure on how and when the content will be released to them. Therefore, we would like to encourage staff to include a short table with content release dates (it can be included in Module Information) and sticking to dates and times of seminar and live sessions which have been timetabled.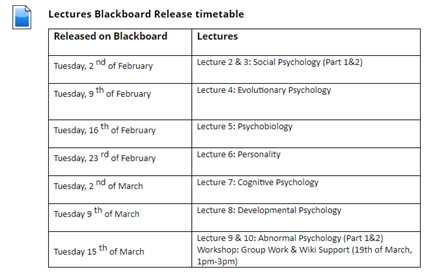 Design of breakout rooms activities
We are pleased to see that many staff members are making good use of the new breakout rooms feature in MS Teams. A few students have suggested that the design of some breakout room activities could be clearer. Please take a look at our blog on Tips for teaching with Breakout Rooms.
Concentration
Students expressed finding it more difficult to concentrate when learning online. One way to overcome this would be to encourage your students to take notes throughout the session (How can I take notes in class?) and embedding more activities which require their active engagement.
Collections of classroom assessment techniques and activities:
Balancing studies and life
This is a difficult balancing act for all of us in these current circumstances, but it may be worth encouraging students to take a look at this guide which includes tips on how to stay organised and motivated.
Opportunities to speak with their tutor
Students really appreciate the contact hours with their tutors. If possible, it may be worth organising a quick 'check-in' session at some point during your module or reiterate how students can book an appointment with you.
Isolation
It is not surprising that students expressed feeling more isolated and lacking socialisation. It may be a good idea to encourage your students to set up a study group and class discussion board to give them more opportunity to aid each other's learning. It may also be worth encouraging students to visit the Students Union website to see what support is available through them and to see the social activities that they are running.