In this blogpost, Jeffrey Clark, a Student Digital Champion within our team, provides his review of LinkedIn Learning.

LinkedIn Learning: An Introduction
At Aberystwyth University there are plenty of books and learning materials to sink your teeth into. But what about when you're on the go? Or you want to explore other topics that pique your interest but don't know where to start? Founded in 1995 as Lynda.com, LinkedIn Learning is an online learning platform with thousands of courses to choose from. The courses are designed by industry professionals and credible experts in fields ranging from business studies to personal wellbeing. While this service would normally require a paid subscription, students and staff at Aberystwyth University can enjoy access to LinkedIn Learning for free across any device!
My experience with LinkedIn Learning
Before I became a student at Aberystwyth University, I had not heard of LinkedIn Learning. As a student of English Literature & Creative Writing, I found myself struggling with assignments in my first year. Many of my assignments were marked down due to grammar mistakes, poor referencing and having an uneven structure to my essay's argument. Sometimes I didn't have a way to contact my professors for help, and they aren't available 24/7, so I looked elsewhere. That's when I found LinkedIn Learning and it has been an invaluable asset to my studies over the past year. On LinkedIn Learning I discovered several courses that cover grammar, editing, and how to write with more impact. These courses have benefitted me hugely as I've seen my grades steadily improve, but it has also taken the stress out of editing assignments.
In addition to these courses which have specifically helped me with my academic work, I've also made use of the range of non-academic courses from LinkedIn Learning. An example of one course I've found particularly useful is Dr. Srini Pillay's course on Managing Depression in the Workplace. This course has helped me to have many more productive days both whilst working my part-time jobs and during my seminars. Check out this collection on Extra-curricular activities for students, produced by Laurie, a fellow Student Digital Champion, to see the range of courses available on the platform.
How does it work?
LinkedIn Learning is like YouTube in terms of its layout. Simply search for a topic and LinkedIn Learning will provide you with courses, individual videos, and learning paths on your chosen topic.
A course in LinkedIn Learning is a collection of videos based on a certain topic that is led by an industry professional or topic expert. For example, the Grammar Foundations course is run by Judy Steiner-Williams who is a Senior Lecturer at Kelley Business School. Courses are split into chapters and typically have a chapter quiz at the end.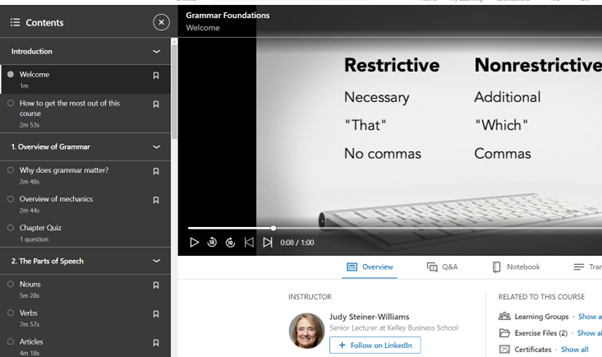 Your progress will be saved as you go through the course, allowing you to pick up where you left off. Many courses also allow you to earn a certificate of completion after you finish them. These certificates can be displayed on your personal LinkedIn profile, making them visible to any potential future employers looking at your profile!
Learning paths are like courses but provide more depth on a given topic as they are compiled of multiple videos and courses from different experts. You will also be encouraged to watch the content of any learning path in a specific sequence. Like courses, you can also receive a certificate for completing learning paths.
If you want to save content that you've found particularly useful, or that you want to watch at another time, you can also create collections which will only be visible to you, it's like how you would make a playlist on YouTube. Collections can contain courses, learning paths and individual videos and are a wonderful way to organize materials about a topic.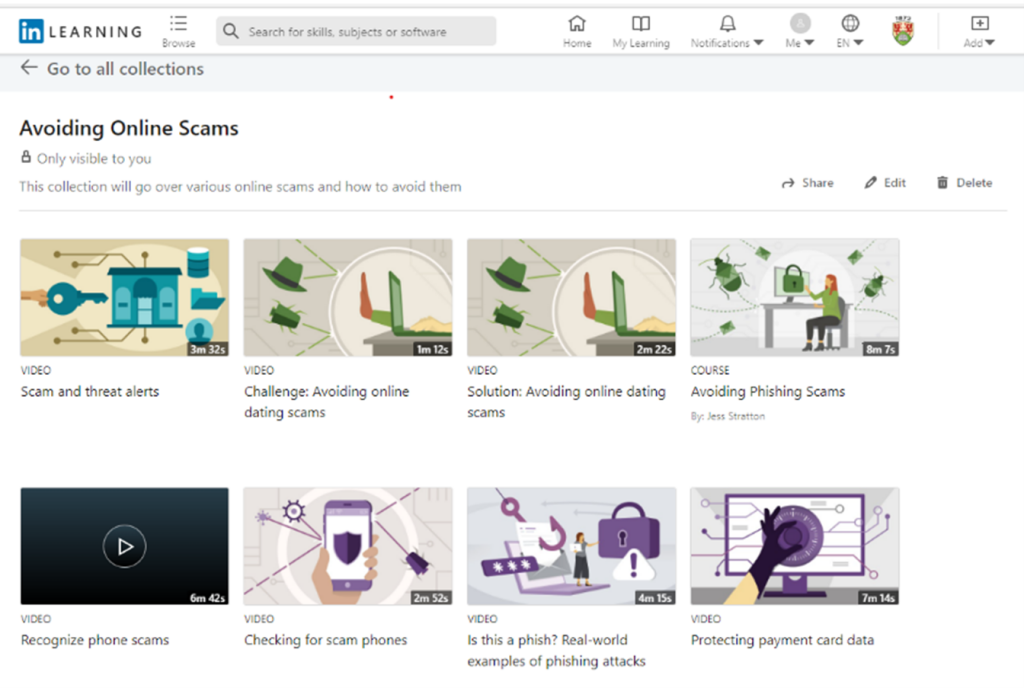 You can also set a weekly goal for yourself to help keep you on track with your learning. By setting goals, LinkedIn Learning will send you personalised notifications as reminders.

The good and the bad
The good:
LinkedIn Learning has A LOT of content. More importantly, it's content that is professionally made so you won't be wasting your time.
On-demand nature of courses encourages you to learn what you want when you want to.
Easy-to-use with an intuitive user interface that allows for you to organise content, for example creating your own collections.
Has an emphasis on personalized learning which is incredibly useful as it gives users a steady stream of relevant content.
It's a great platform to learn new skills!
However, LinkedIn Learning isn't without a few flaws.
It can be hard to find courses on specific academic subjects. As you would expect, LinkedIn Learning courses don't have the same depth of information as a typical university module. However, the platform will help you develop skills to support your university work, and to develop other useful skills.
None of the courses supplied by LinkedIn Learning are available in the Welsh language. However, the Prifysgol Aberystwyth University library contains content that staff and students at the university have curated, and these can contain bilingual videos.
Activate your account today!
LinkedIn Learning is available for free to all students and staff at Aberystwyth University. This service would normally require you to have a subscription which would entail a monthly fee. If you would like to learn more, please visit our webpage on LinkedIn Learning for information on accessing hundreds of professional courses to enhance your learning!
And finally, if you activate your account before 6 January 2023, you will automatically be entered into a raffle where you will have the opportunity of winning one of three £20 vouchers!