LinkedIn Learning, an online learning platform which all students and staff at AU have free access to, have recently released three new and exciting features. Take a look at the information and guides below to learn how to make the most of these new features.
New feature 1: Role Guides
LinkedIn Learning have recently released Role Guides. These will enable you to explore and find content related to a wide variety of career paths. For example, if you aspire to become a Data Scientist, you can follow the Data Scientist role guide to find courses, learning paths, skills insights, and community group spaces related to this specific role.
Take a look at the below video (no audio) to learn how to access Role Guides, and you can also find out more about them through this LinkedIn Learning Role Guides help guide.
New feature 2: GitHub Codespaces
LinkedIn Learning have also released GitHub Codespaces, allowing you hands-on practice to master today's top computer programming languages and other related topics such as Artificial Intelligence (AI).
LinkedIn Learning have developed over 50 courses which include hands-on practice through integration with GitHub Codespaces, which is a cloud-based development environment. You can access all 50+ courses here, or start by looking at the selection of courses below:
New feature 3: Setting Career Goals
You can personalise the content that LinkedIn Learning recommends to you even further by setting Career Goals for yourself. The two main benefits of setting career goals are to:
Connect you to career development opportunities based on the goals that you have set yourself
Help you to build a variety of skills that will help you to achieve your goals
Set your Career Goals by clicking on My Learning and then My Goals, and take a look at this useful guide to help you make the most of this new feature.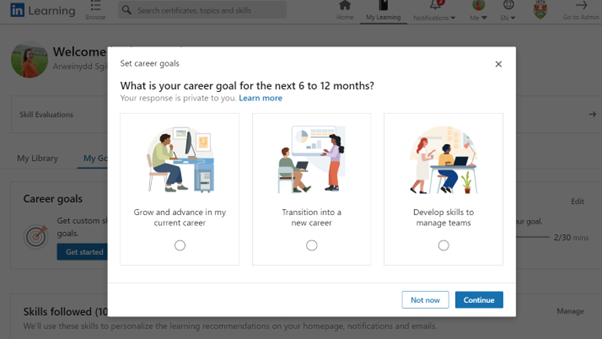 For any support or queries about these new features, or for any general questions about LinkedIn Learning, please contact the Digital Skills Team (digi@aber.ac.uk).