Blogpost by Jeffrey Clark (Student Digital Champion)

The Internet is a great place to connect with friends, work on projects, and even make money. However, there are some who will use the Internet to try and make money from YOU! Unfortunately, scams are becoming more and more advanced but thankfully I've got you covered! In this blogpost I'll go over scam emails, what they are, how to identify them and what to do when you find them.
Make sure to read the Aberystwyth University page on spam emails before reading this blog post.
What is a phishing email?
A phishing email is an email that is designed to obtain sensitive personal data from you. This data may come in the form of your address, credit card information, or even your bank details! Phishing emails are usually disguised as legitimate business emails like the example below.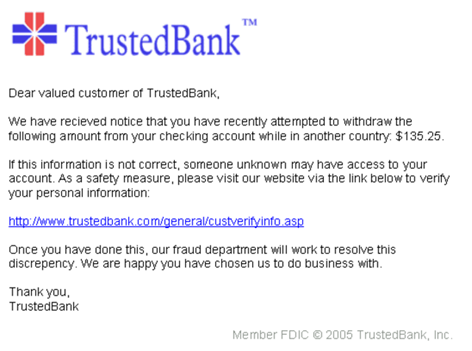 It's easy to see how one might fall for a phishing email like this. Firstly, the email notifies the victim that their bank account may have been compromised which prompts them to act urgently. Secondly, there is nothing suspicious about the link at first glance. So how can you tell the difference between a legitimate email and a phishing email?