This blogpost has been written by Jeffrey Clark, Student Digital Champion

That sinking feeling…
With exams around the corner, there's no doubt that you're all feeling the pressure. Sometimes that pressure can be overwhelming and lead to periods of high stress and anxiety. No student should have to feel like that! In this blogpost, I'll go over some tips and useful apps that can help you and other students tackle stress during this difficult period.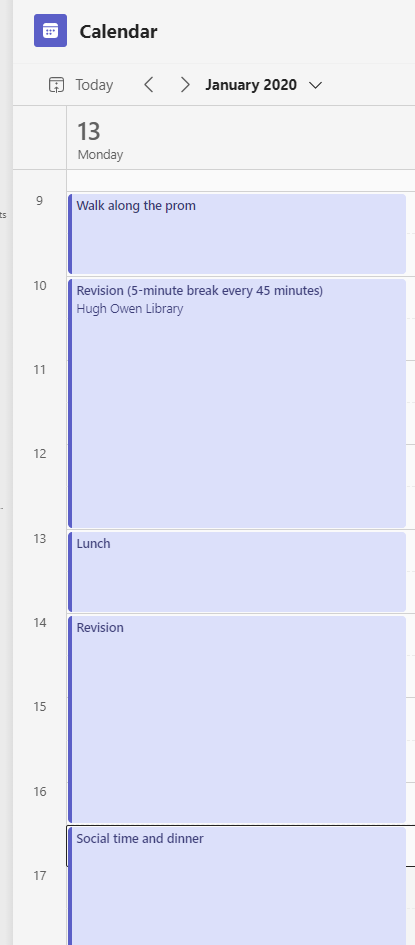 It is perfectly normal to feel mild to moderate levels of stress during your time at university. There is a lot going on! From reading and writing essays to hanging out with friends, it's easy to feel overwhelmed at times. Even if you really enjoy your degree, it can still be stressful trying to find the time to manage all your modules. That is why I recommend managing your time and controlling your routine rather than letting it control you. Apps like Microsoft To-Do have been incredibly helpful to me since I'm always on-the-go. Microsoft-To-Do is a free cloud-based task management app available for desktops, Androids and Apple devices. The app contains some useful features for keeping you on track such as a customizable calendar and reminders that can be arranged in any order you desire.
Microsoft Teams also features an incredibly customizable calendar that is useful for scheduling meetings as well as keeping you up to date with your university task. Managing your time reduces stress by minimizing unpredictability and giving you the ability to work WITH deadlines as opposed to AGAINST them. Another good tip to reduce exam stress is to focus on one thing at a time. Whilst revising, focus your attention on just one of your modules a day, if you can. This makes it easier to retain information on the module that you're studying which will make taking an exam all that easier. If you must study multiple modules, make sure you give yourself a meaningful break during your studies. Taking a break is important while studying for any amount of time. Incorporating breaks into your schedule is key to reducing stress and avoiding 'burnout', which we will discuss in greater detail later in this post.