Blogpost by Joel Williams (Student Digital Champion)

One focus for the Student Digital Champions this year is to explore strategies and programs we've used to increase our digital wellbeing. This series will explore what digital wellbeing is and will consist of posts and infographics discussing reducing eyestrain, digital detox, working environment and much more!
This information will be posted throughout the year with several seasonal posts, including challenges for Christmas and Easter. You can also use the LinkedIn Learning collections we've curated if you want to find out more in between posts, and you can stay up to date with all new posts within this series through this page on our Digital Skills blog.
To accompany this introductory blogpost, we've created A student's guide to defeating computer eyestrain! (text version and clickable links below visual)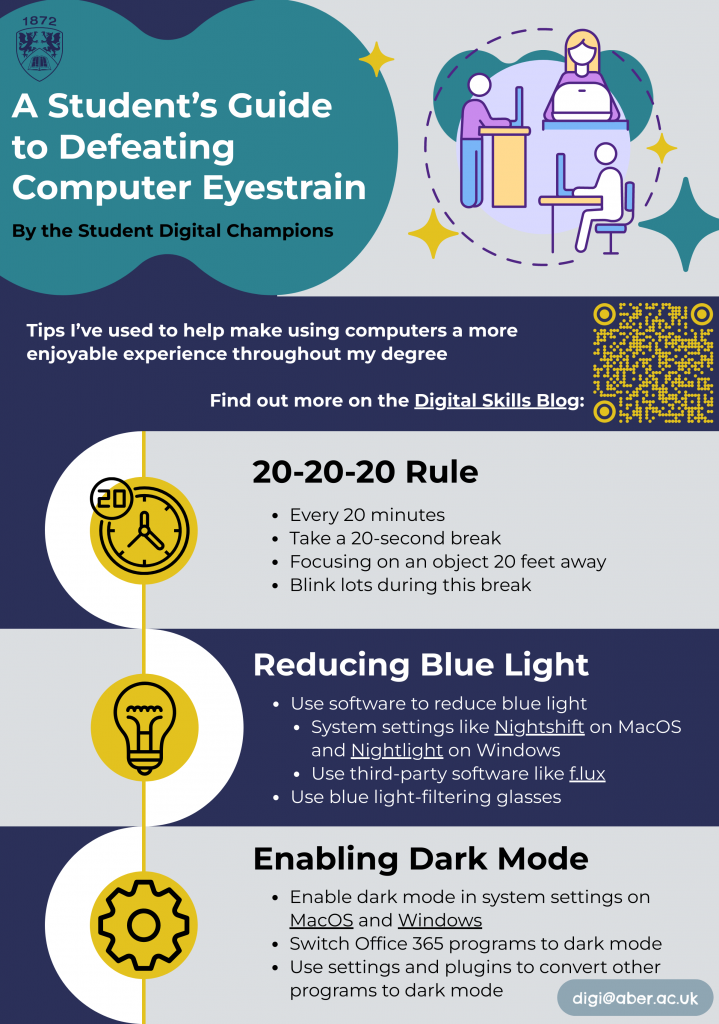 Text Version:
A Student's Guide to Defeating Computer Eyestrain – By the Student Digital Champions
Tips I've used to help make using computers a more enjoyable experience throughout my degree. Find out more on the Digital Skills Blog.
20-20-20 Rule
Every 20 minutes.
Take a 20-second break.
Focusing on an object 20 feet away.
Blink lots during this break.
Reducing Blue Light
Use software to reduce blue light.
Use blue light-filtering glasses.
Enabling Dark Mode
Switch Office 365 programs to dark mode.
Use settings and plugins to convert other programs to dark mode.
digi@aber.ac.uk