Blogpost by Jeffrey Clark (Student Digital Champion)

Introduction to Primo
It can be challenging to go into any library and find what you're looking for. Most libraries contain hundreds of books, and the Hugh Owen library has THOUSANDS of books. If you want to find what you're looking for with clinical precisions, then I recommend you give Primo a try. Primo is a digital library catalogue used by Aberystwyth University. It's a massive database that allows students to search for books to loan from the University, make lists of books to check-out, and access online versions of reading materials. It has tonnes of features which have made my time at Aberystwyth that much easier. While it's easy to see it as 'just Google search for the library', it's much more than that. From saving lists of books to requesting books I need for my course, Primo has saved me time and from many headaches during my studies. In this blog post I'll be going over Primo, what it does, and how to make it work for you.
Using the search function
Using Primo's search function is easy. Simply type the name of the item you wish to find and Primo will tell you where it is in the Hugh Owen library or if you can access it online (some items have both online and physical copies.) Primo's search function is set to search for 'all items' by default, which can muddy your search results a bit by giving you too many options.
At the bottom of the search bar, there are three drop-down menus which have options to help you find EXACTLY what you're looking for. For example, let's say that I want to search only for books by John Steinbeck. From the bottom of the search bar, I would select 'Books', then 'with my exact phrase', selecting 'as author/creator' and finally searching 'John Steinbeck.'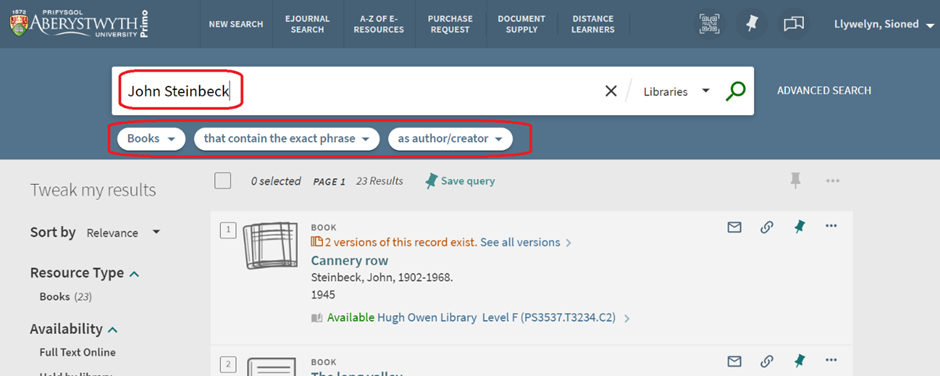 This search gives me every book by John Steinbeck that is available, including where each book is located. If you're struggling to find a book or an article, we recommend giving these features a go as they'll help you find EXACTLY what you're looking for. If you need an even more accurate search, then we recommend using the 'advanced search' option to the side of the main search bar which helps you to narrow your searches down.
Managing your account
Primo is not only a catalogue but also your destination for managing your library account. To access your library account, simply visit Primo and log into your account using your Aber student email address and password. From here you can manage your book loans, including their due date as well as being able to renew them if you need them for longer.
You can also request an item which you can pick up for collection through the request function (How do I do that?). If the item is already out on loan by another user, they will be prompted to return that item to the library. The library will send an email to notify you when an item you have requested is ready to be collected. The items can be found on the ground floor of Hugh Owen on the collections shelf.
You can view and pay your fines, for late items that have been recalled by other users, through Primo (How do I do that?). The service accepts all major credit cards as well as AberCard payments.
Still can't find what you're looking for?
If you're looking for a journal or magazine article and can't find it on Primo, you can use the BrowZine feature. BrowZine is a library catalogue like Primo but instead of books it gives you on-demand access to thousands of journals and journal articles across a wide array of subjects. It's incredibly helpful for those seeking sources for their assignments.