We are so lucky here in Aberystwyth with lovely rolling hills and great walks. It seemed fitting for our last team meeting of the year to escape the screens and get together outside before the Christmas break with a team walk and coffee catch up at Nant yr Arian.
This term has been busy and has passed really quickly! It's been a great mix with online as well as face to face teaching sessions and providing support. We've loved being back on the Hugh Owen Level F enquiry desk, helping with many varied questions and queries.
We are here until the Thursday 23rd December, if you need any help contact us at librarians@aber.ac.uk After the break we'll be back on the Tuesday 4th January.
There will be some computer rooms and study spaces available over the Christmas break, more details can be found here: News Item : Information Services , Aberystwyth University.
We would like to wish everyone a lovely break and look forward to helping and supporting you in 2022!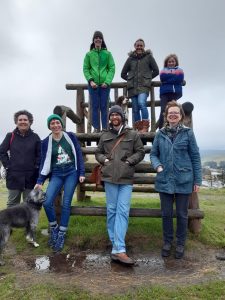 (From left to right; Joy Cadwallader, Abi Crook, Sioned Llywelyn, Lloyd Roderick, Anita Saycell, Sarah Gwenlan)