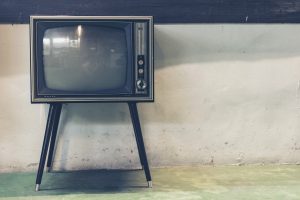 If you are anything like me then you are probably rejoicing in the fact that the BBC's archive of historic radio and television programmes is being made available through Box of Broadcasts.
I for one can't wait to watch post-apocalyptic fun-fest Z for Zachariah (broadcast in 1984 as part of the Play for Today strand). If that's not your thing, how about Allen Ginsberg and William Burroughs talking about Jack Kerouac on Arena in 1988 ? Not for you? Then maybe an episode of Horizon from 1980 exploring how voice-controlled word processors are set to revolutionise the office). Or how about a personal tour of Stratford upon Avon in the company of Welsh playwright Huw Lloyd Edwards in Arall Fyd from 1972?
Of course this is the BBC so there is so much more: cultural highlights (BBC Television Shakespeare); landmark light entertainment (Multi-Coloured Swap Shop – that's my childhood, right there!) There are flagship news shows (Newsnight) and historic accounts of landmark social and cultural events (Yesterday's Witness). It all adds up to a resource of unparalleled quality and depth.
Box of Broadcasts have put together some useful information on how to access the historic content in the archive, but if you get stuck with anything please don't hesitate to contact your subject librarian for help.
Here are some other useful links for finding your way around Box of Broadcasts:
Here are some useful links for teaching staff: