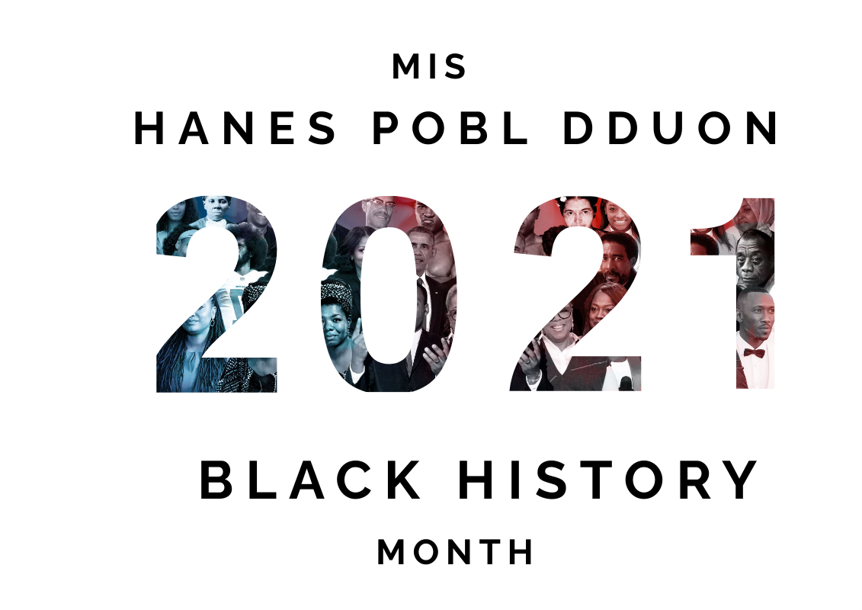 Black History Month is an annual event reflecting on the histories and cultures of black people throughout the world. It began in America but has been marked every October in the UK since 1987.
For Black History Month 2021, Aberystwyth University Library has published a new list of recommended reading and resources which offer the opportunity to explore some perhaps lesser-known facets of Black History:
Welsh Black History
Our Black History in Wales selections take us on journeys to explore Wales' involvement in slavery and its pivotal role in abolishing it (Slave Wales by Chris Evans); personal journeys of self-discovery and mixed-race identity (Sugar and Slate by Charlotte Williams) and onto the first Welsh-language volume to discuss the portrayal of multiculturalism in Wales in contemporary Welsh and English fiction (Y Gymru Ddu ar Ddalen Wen by Lisa Sheppard).
British Black History
In this section, we look at the experiences of women and students of colour in British Academia (Inside the ivory tower edited by Deborah Gabriel and Shirley Tate and Insider-Outsider: The Role of Race in Shaping the Experiences of Black and Minority Ethnic Students by Sofia Akel). We see how the cultural impact of the politics of race and antiracism is reflected in Black British and British Asian literature (Race and antiracism in Black British and British Asian literature by Dave Gunning), and follow both a historical narrative of Britain's racialized minorities (Staying Power: The History of Black People in Britain, Peter Fryer) and a very British crisis of identity (Afua Hirsch's Brit(ish): on race, identity and belonging).
Black History in Poetry
Experience Black History in poetry through recent works by the Dylan Thomas Prize winning Kayombo Chingonyi (Kumukanda) and Raymond Antrobus' debut collection The Perseverance. Delve into the astonishing online Proquest Literature One African American Poetry collection of nearly 3,000 poems by African American poets of the eighteenth and nineteenth centuries.  
Fiction and Non-Fiction
Our fiction recommendations for you include recently published novels, the Welsh-language novel Safana by Jerry Hunter and Queenie by Candice Carty-Williams, prize-winning novels (An American Marriage by Tayari Jones; Girl, Woman, Other by Bernadine Evaristo), classic novels (Harper Lee's To Kill a Mockingbird, Beloved by Toni Morrison and Ralph Ellison's Invisible Man) and popular YA fiction (Children of Blood and Bone by Tomi Adeyemi and Angie Thomas' The Hate U Give )
In our non-fiction selection you'll find autobiographies and biographies of influential black people (Becoming, Michelle Obama) and a diverse range of challenging essays and political and social commentaries (I will not be erased, gal-dem; Slay in your lane: the Black girl bible, Yomi Adegoke; Natives, Akala; Don't touch my hair, Emma Dabiri).
Online Resources
The list contains many wonderful online resources, but do not overlook the Proquest One Literature Black Writing and World Literature Collection which brings together the largest and most inclusive literature collection ever curated. These are the special projects we are highlighting this month:
This online collection includes over 250 volumes of fiction, poetry, drama and non-fictional prose by African authors.
More than a million-and-a-half Africans, along with many Indians and South Asians, were brought to the Caribbean between the 15th and 19th centuries. Today, their descendants are producing literature with strong and direct ties to traditional African expressions.
Black Women Writers presents 100,000 pages of literature and essays on feminist issues – from 18th century narratives depicting slavery, to works by a wide range of authors during the late 1950s and 1960s, following the winds of independence that swept across Africa.
Black Short Fiction and Folklore​
Black Short Fiction and Folklore brings together 82,000 pages and more than 11,000 works of short fiction, comprising a variety of traditions ranging from early African oral traditions to hip-hop – including fables, parables, ballads, folk-tales, short stories and novellas.
We have included a range of physical and online resources on the list, so whether you're on campus or off, you'll find something interesting to read. Browse our virtual display here or if you prefer to browse in person, we will have a display on Level F of the Hugh Owen Library throughout October.
And please let us know what you think of the selection! Tweet using the hashtag #BHMAber21 or @aberuni_is on Twitter.