Dear library users!
Great news – the lighting and air conditioning is now installed and our crew is putting ceiling tiles in the ceiling frame.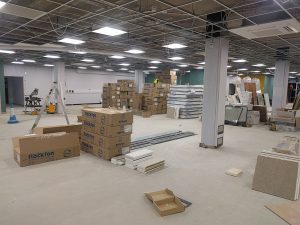 On a different note, we would like to encourage all students and staff to feedback to us all your suggestions, likes and dislikes in this year's Information Services User Survey: https://aber.onlinesurveys.ac.uk/isusersurvey17
We want to know what you think about your library, the Level D refurbishment and also the services we provide.
We wish you a good week,
Ania and Arfon