[:en]Hello everyone,
I'm delighted to share the (almost!) final version of the new Level D layout.

Level D Floor Plan 2017
We are still tweaking the floor guide a little more but this gives you a good idea of the changes that will take place.
A reminder that the building work will
Relocate the entrance to face the concourse.
Relocate the enquiry desk.
Create two new Group Study Rooms.
Create a Vending Area.
Create more study and computing space.
Create gender neutral toilets.
We have been busy selecting colours and fabrics for the furniture. The project team attended a really productive 'Colour Workshop' with BOF Furniture in Bridgend.
Below you will find images of the finishes, colours and patterns that our beautiful new Level D will be furnished with.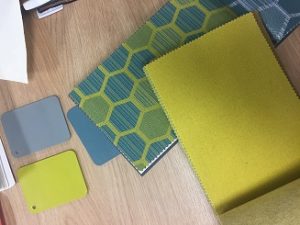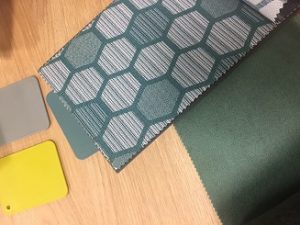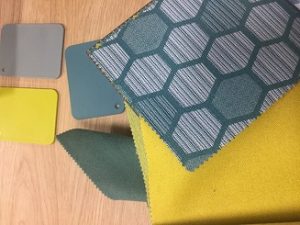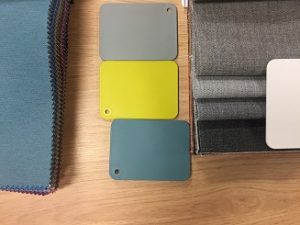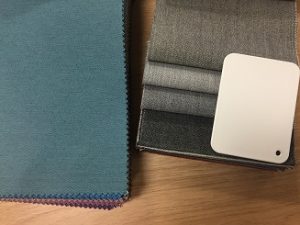 We are also excited to share some mock up images of what we imagine the space to look like. These images are courtesy of BOF Furniture – Bridgend Office.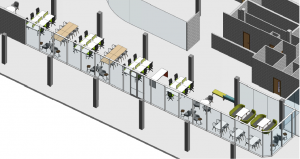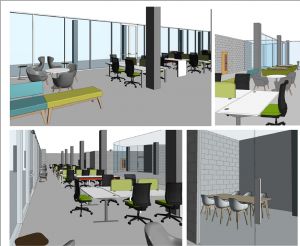 The contract for the building work will be awarded imminently and with less than three weeks to go before staff vacate Level D its getting very exciting.
On behalf of the project team, we wish all our students who are sitting summer exams and submitting their assignments and dissertations the very best of luck! [:cy]Helo bawb,
Mae'n bleser gennyf rannu'r fersiwn terfynol (bron iawn) o gynllun newydd Llawr D.
Rydym yn parhau i addasu fymryn ar y cynllun llawr ond mae hwn yn rhoi syniad da i chi o'r newidiadau sydd ar droed.
Bydd y gwaith adeiladu yn:
Symud y fynedfa i wynebu'r gynteddfa.
Symud y ddesg ymholiadau.
Creu Dwy Ystafell Astudio i Grwpiau.
Creu Ardal i Beiriannau Gwerthu Bwyd a Diod.
Creu mwy o ofod i astudio ac i gyfrifiaduron.
Creu toiledau niwtral o ran y rhywiau.
Rydym wedi bod yn brysur yn dewis lliwiau a ffabrigau ar gyfer y dodrefn. Cafodd tîm y prosiect 'Weithdy Lliw' cynhyrchiol iawn gyda BOF Furniture ym Mhen-y-Bont ar Ogwr. Isod ceir lluniau o'r gorffeniadau, y lliwiau a'r patrymau y byddwn yn eu defnyddio i ddodrefnu'r Llawr D newydd.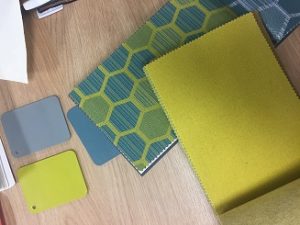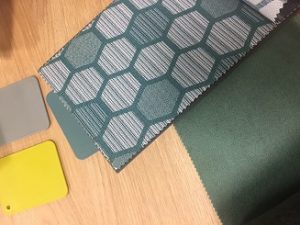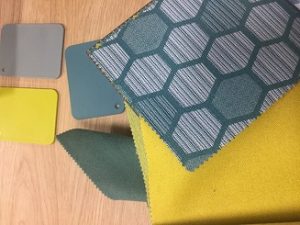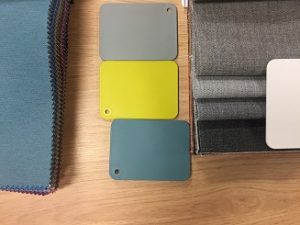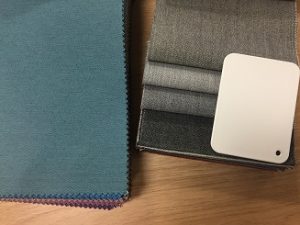 Yr ydym hefyd yn falch iawn o allu rhannu delweddau sy'n rhoi syniad o sut yr yr ydym yn dychmygu'r gofod wedi'r gwaith ailwampio. Mae'r delweddau yma ar gael trwy garedigrwydd Dodrefn BOF – Swyddfa Penybont.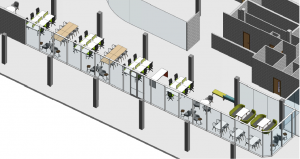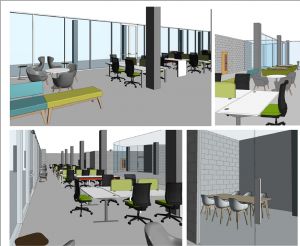 Bydd y contract ar gyfer y gwaith adeiladu yn cael ei ddyfarnu'n fuan, a gyda llai na thair wythnos cyn y bydd y staff yn gadael Llawr D, mae cyffro mawr yma.
Ar ran tîm y prosiect, hoffwn ddymuno'n dda iawn i'r holl fyfyrwyr sy'n sefyll arholiadau ac yn cyflwyno aseiniadau a thraethodau estynedig! [:]