[:en]This week our Library & IT Enquiry Desk service opened on Level E of the Hugh Owen Library. This Enquiry Desk is located in front of the main entrance doors on Level E. Staff at the Enquiry Desk welcome your enquiries.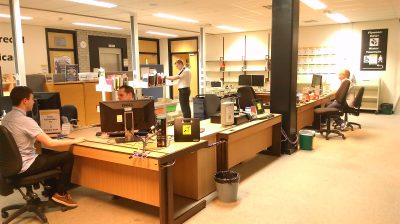 We have been busy relocating some book collections and services in preparation for building work to start on Level D of the library. While we have signs up and around redirecting library users to the new entrance of the library and to relocated book and services inside, if you have any problems at all finding books or need any help, please do not hesitate to ask a member of our staff.
Remember also that you are welcome to contact us via email, phone or online chat for any support or questions about use of library / IT services and resources: https://www.aber.ac.uk/en/is/help/contactus/
Level D of the library has now been emptied of all furniture, ready for the building contractors to start work by the last week in June. This is what Level D looked like on the last day of term (last Saturday)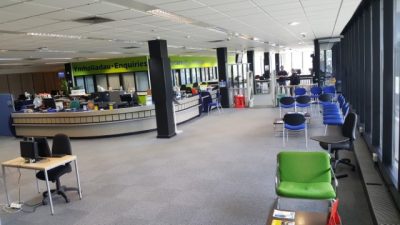 and this is Level D today, ready for refurbishment to start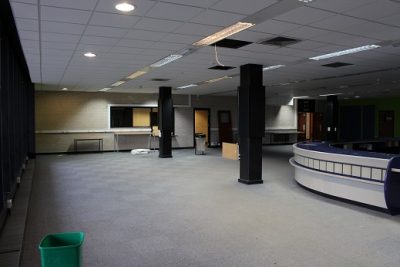 A reminder that the Hugh Owen Library Level D refurbishment web page is at: https://www.aber.ac.uk/en/is/news/librefurb/
Thank you to all involved in relocating this service up to Level E. We're looking forward to building work starting.
Elizabeth[:cy]Yr wythnos hon agorodd ein Desg Ymholiadau Llyfrgell a TG ar Lawr E yn Llyfrgell Hugh Owen. Mae'r Ddesg Ymholiadau hon wedi'i lleoli o flaen drysau'r brif fynedfa ar Lawr E. Mae'r staff wrth y Ddesg Ymholiadau'n croesawu eich ymholiadau.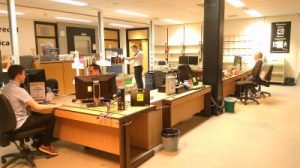 Rydym wedi bod yn brysur yn adleoli rhai casgliadau o lyfrau a gwasanaethau er mwyn paratoi ar gyfer dechrau'r gwaith adeiladu ar Lawr D y llyfrgell. Er bod gennym arwyddion i fyny o amgylch y llyfrgell yn cyfeirio defnyddwyr y llyfrgell at y fynedfa newydd i'r llyfrgell ac i'r llyfrau a'r gwasanaethau sydd wedi'u symud, os ydych chi'n cael unrhyw broblem dod o hyd i'r llyfrau neu os oes arnoch angen cymorth, mae croeso i chi gysylltu ag aelod o'n staff.
Cofiwch hefyd fod croeso i chi gysylltu â ni drwy e-bost, ffôn neu sgwrs ar-lein i gael unrhyw gymorth neu i ofyn unrhyw gwestiwn am ddefnyddio gwasanaethau ac adnoddau'r llyfrgell/TG: https://www.aber.ac.uk/cy/is/help/contactus/
Mae Llawr D y llyfrgell bellach wedi cael ei wagio o'r holl ddodrefn yn barod ar gyfer y contractwyr adeiladu, sy'n dod i ddechrau gweithio yn ystod wythnos olaf mis Mehefin. Dyma sut olwg oedd ar Lawr D ar ddiwrnod ola'r tymor (ddydd Sadwrn diwethaf)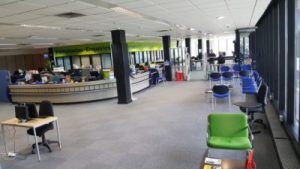 A dyma Lawr D heddiw, yn barod ar gyfer y gwaith adnewyddu.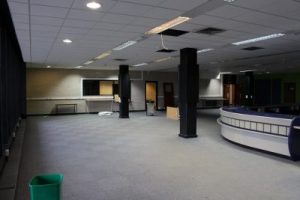 Nodyn i'ch atgoffa bod gweddalen o'r gwaith adnewyddu i Lawr D Llyfrgell Hugh Owen ar gael ar: https://www.aber.ac.uk/cy/is/news/librefurb/
Diolch i bawb a gymerodd ran yn y gwaith o adleoli'r gwasanaeth hwn i Lawr E. Rydym yn edrych ymlaen at weld y gwaith adeiladu yn dechrau.
Elizabeth
[:]