[:en]Work on the project has begun and our contractors RL Davies are in the middle of the demolition phase of the building work. It's really exciting to see progress being made. Hoarding has gone up around the site and we have got some information posters up to ensure everyone knows what's going on behind the barrier.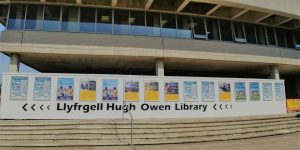 We have also set up a display outside the temporary entrance to the library. This details the full layout of the refurbished space and also illustrates some of the furniture, colours and patterns that we will see when the work is complete.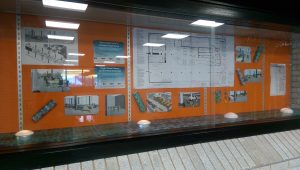 The demolition is the noisiest stage of the project and our contractors expect it to only last another three days or so; they are also working into the evenings to minimize noise during office hours.
We appreciate that there has been noise disturbance during this phase and we thank everyone for their understanding and patience while we carry out these essential works.
Here are some images of the ongoing strip out.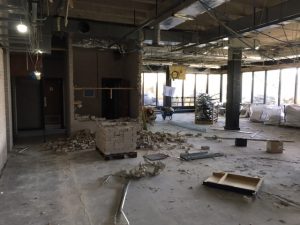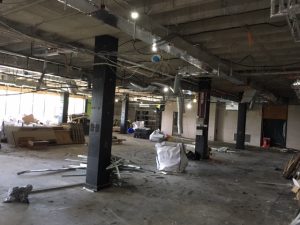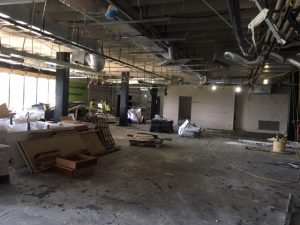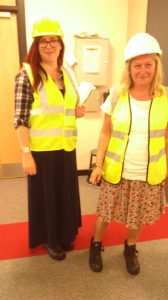 Myself and Julie Hart, our Head Librarian and Project Executive, sporting very fashionable safety gear, on our way down to visit our contractors.
[:cy]
Mae gwaith ar y prosiect wedi dechrau ac mae ein contractwyr RL Davies yng nghanol y gwaith dymchwel. Mae'n hynod gyffrous gweld y cynnydd sy'n cael ei wneud. Mae'r palisiau wedi'u codi o amgylch y safle ac rydym wedi rhoi posteri gwybodaeth i fyny i sicrhau bod pawb yn gwybod beth sy'n digwydd y tu ôl i'r rhwystr.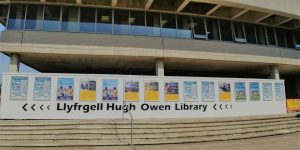 Rydym hefyd wedi gosod arddangosfa fach y tu allan i'r fynedfa dros dro i'r Llyfrgell. Mae hwn yn dangos union gynllun y gofod sy'n cael ei ailwampio, yn ogystal â rhai o'r dodrefn, lliwiau a phatrymau y byddwn yn eu gweld pan fydd y gwaith wedi'i gwblhau.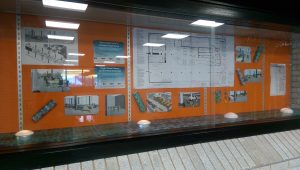 Y gwaith dymchwel yw cam mwyaf swnllyd y prosiect ac mae ein contractwyr yn disgwyl i'r gwaith bara am tua tri diwrnod arall yn unig; maent hefyd yn gweithio gyda'r hwyr i leihau'r sŵn yn ystod oriau swyddfa. Rydym yn gwerthfawrogi bod y cam hwn o'r gwaith wedi bod yn swnllyd ac fe hoffem ddiolch i bawb am eu dealltwriaeth a'u hamynedd wrth i ni gyflawni'r gwaith hanfodol hwn.
Dyma ambell lun o'r gwaith sy'n digwydd ar hyn o bryd.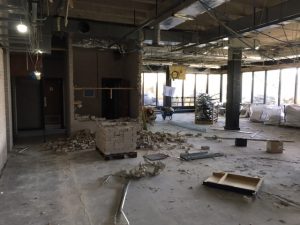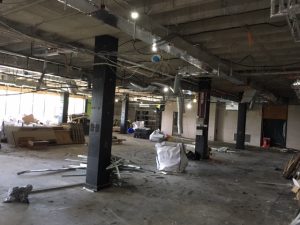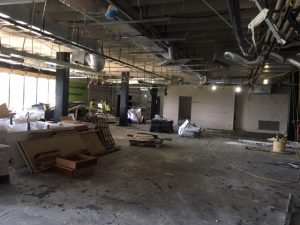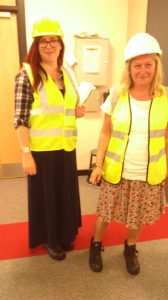 Julie Hart, ein Prif Lyfrgellydd a Swyddog Gweithredol y Prosiect, a minnau yn gwisgo offer diogelwch hynod ffasiynol, ar ein ffordd i ymweld â'r contractwyr.
[:]