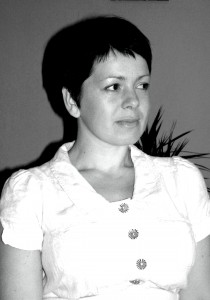 Sarah Corbett was born in Chester in 1970 and grew up in North Wales. She received a BA in English and Sociology from Leeds University in 1992, an MA in Creative Writing from the University of East Anglia in 1998, and a PhD in Creative and Critical Writing from the University of Manchester in 2013. Sarah taught Creative Writing for the Open University from 2004 to 2009 and is currently part-time Lecturer in Creative Writing at Lancaster University. Sarah was awarded a residency at The Yaddo Foundation in 2005 and was a Royal Literary Fund Fellow in 2012.
Sarah began writing poetry as an undergraduate at Leeds, and her first poems were published in magazines such as Pennine Platform, Aireings, Iron, Stand, Ciphers, Poetry Wales and The Rialto.  Sarah won an Eric Gregory Award for Poetry in 1997, and her first collection, The Red Wardrobe,  was published by Seren books in 1998. The Red Wardrobe was shortlisted for the Forward Best First Collection Prize and the T. S. Eliot Prize in 1998. Her second collection from Seren was The Witch Bag in 2002, followed by Other Beasts in 2008. Sarah's forthcoming book, And She Was, is a verse-novel to be published by Pavilion Poetry (Liverpool University Press) in 2015. Sarah's work has been widely anthologised, most recently in Identity Parade: New British and Irish Poets (Bloodaxe 2010), The Best British Poetry 2012 (Salt 2012) and Sculpted: Poetry of the North West (NW Poets, 2013). 
Sarah has won three Arts Council England Writer's Awards, for The Inner Tourist, a poem for two voices, performed at The Hebden Bridge Arts Festival in 2003, for Other Beasts in 2006 and for a new collection of poems, Being Here, in 2011. Sarah's current projects include 'Magical Strangers', a narrative poem/film in collaboration with the novelist Nicky Harlow. Sarah hosts the reading series poetrynites@thebookcase, every third Thursday in Hebden Bridge.
Sarah Corbett's website