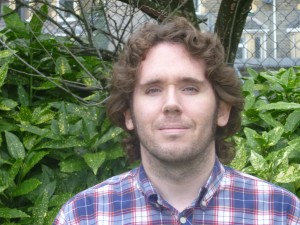 Jonathan Edwards was born and brought up in Crosskeys, south Wales. He has an MA in Writing from the University of Warwick, has written speeches for the Welsh Assembly Government and journalism for The Big Issue Cymru, and currently works as an English teacher. He won the Terry Hetherington Award in 2010, was awarded a Literature Wales new writer's bursary in 2011,
and in 2012 won prizes in the Cardiff International Poetry Competition and the Basil Bunting Award. His work has appeared in a wide range of magazines, including Poetry Review,
The North, Poetry Wales and New Welsh Review. His first collection of poems, My Family and Other Superheroes (Seren, 2014), was shortlisted for the Fenton Aldeburgh First Collection Prize and won the Costa Prize for Poetry 2014.
Bibliography:
My Family and Other Superheroes (Seren, 2014) ISBN 9781781721629
The views and opinions of interviewees are their own, and are not necessarily those of Devolved Voices.