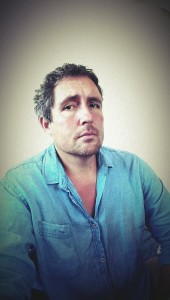 Kristian Evans is a poet, artist and environmental activist, originally from Bridgend. He writes the popular Kenfig Journal for Sustainable Wales, and contributes to the organisation and development of their arts venue 'The Green Room', based in Porthcawl. He also regularly collaborates with performance artists; recent works have included The Mirror's Grain (2011), and A Conference of Birds (2015). His first collection of poems, Unleaving, is published by HappenStance Press. He currently lives among the sand dunes at Kenfig on the south Wales coast with his wife, two sons and a border collie.
Bibliography:
Unleaving (HappenStance, forthcoming, 2015) ISBN TBC

The views and opinions of interviewees are their own, and are not necessarily those of Devolved Voices.