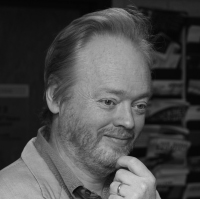 Matthew Francis is the author of five poetry collections, of which the latest is Muscovy (Faber, 2013). His poetry has twice been shortlisted for the Forward Prize, and in 2004 he was chosen as one of the Next Generation poets. He is the editor of W.S. Graham's New Collected Poems, and author of a critical study of Graham, Where the People Are. He has published a novel, WHOM, and a collection of short stories, Singing a Man to Death, and his second novel, The Book of the Needle, is due out from Cinnamon Press in 2014. He lives in Wales with his wife, Creina, and teaches creative writing at Aberystwyth University.
Select Bibliography:
Blizzard (Faber, 1996) ISBN 9780571178544
Dragons (Faber, 2001) ISBN 9780571206667
Whereabouts (Rufus Books, 2005) ISBN 9780973037012
Mandeville (Faber, 2008) ISBN 9780571239276
Muscovy (Faber, 2013) ISBN 9780571297351
The views and opinions of interviewees are their own, and are not necessarily those of Devolved Voices.