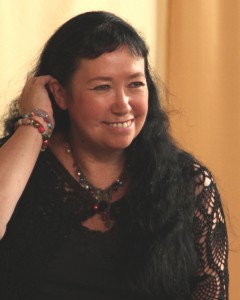 Pascale Petit's latest collection, What the Water Gave Me: Poems after Frida Kahlo (Seren, 2010), was shortlisted for both the T.S. Eliot Prize and Wales Book of the Year, and was Jackie Kay's Book of the Year in The Observer. Two previous books, The Zoo Father and The Huntress, were also shortlisted for the T.S. Eliot Prize and were Books of the Year in the Times Literary Supplement and Independent. She has worked as Poetry Editor of Poetry London and currently tutors courses at Tate Modern and for The Poetry School. Arts Council England has awarded her a Grant for the Arts award to complete her next collection Fauverie, due from Seren in October 2014. A bilingual Selected Poems is also due to be published in China early in 2014.
Pascale Petit's website
Pascale Petit's blog
Selected Bibliography:
Icefall Climbing (Smith Doorstop, 1994) ISBN 9781869961619
Heart of a Deer (Enitharmon, 1998) ISBN 9781900564168
The Zoo Father (Seren, 2001) ISBN 9781854113054
The Huntress (Seren, 2005) ISBN 9781854113962
The Wounded Deer: Fourteen poems after Frida Kahlo (Smith Doorstop, 2005) ISBN 9781902382753
The Treekeeper's Tale (Seren, 2008) ISBN 9781854114716
What the Water Gave Me: Poems after Frida Kahlo (Seren, 2010) ISBN 9781854115157
The views and opinions of interviewees are their own, and are not necessarily those of Devolved Voices.