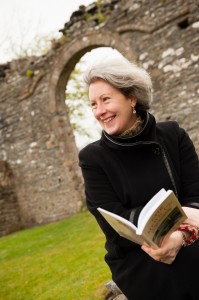 Gwyneth Lewis was National Poet of Wales 2005-06, the first to be awarded the laureateship. She wrote the bilingual words on the frontage of the Wales Millennium Centre – in six-foot high stained-glass windows, rumoured to be the biggest poem in the world. She's an award-winning poet in both Welsh and English and has published eight books of poetry. The latest, Sparrow Tree (Bloodaxe Books, 2011) won the Roland Mathias Poetry Award. In 2010 Gwyneth was awarded a Society of Authors Cholmondeley Award for a distinguished body of work. Her two memoirs are Sunbathing in the Rain: A Cheerful Book on Depression and Two in a Boat. She also writes plays for stage and television and libretti. In fall 2014, Gwyneth was the Bain-Swiggett Visiting Lecturer of Poetry and English at Princeton University.
Gwyneth Lewis's website
Select bibliography:
Parables and Faxes (Bloodaxe, 1995) ISBN 9781852243197
Zero Gravity (Bloodaxe, 1998) ISBN 9781852244569
Keeping Mum (Bloodaxe, 2003) ISBN 9781852245832
Chaotic Angels: Poems in English (Bloodaxe, 2005) ISBN 9781852247232
A Hospital Odyssey (Bloodaxe, 2010) ISBN 9781852248772
Sparrow Tree (Bloodaxe, 2011)  ISBN 9781852248994
The views and opinions of interviewees are their own, and are not necessarily those of Devolved Voices.