[:en]Hello again,
Just two weeks ago we updated you on the ceiling work undertaken on Level D (see our last post here). We are pleased to say that the noisiest work is nearly over. Spaces are really starting to take shape with fixtures and fittings now being added – take a look at some new photos below:

• The first lamps are being installed here.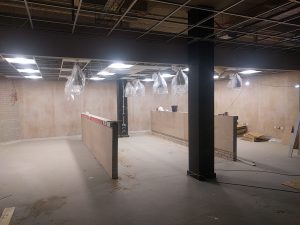 • The refreshment area is looking good!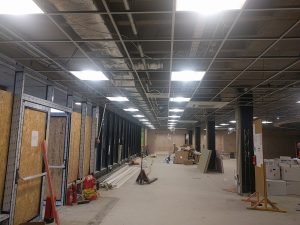 We know that during the past few weeks the library was not as quiet as it usually is. Your patience and understanding will be rewarded with cake for all who come to celebrate Level D reopening on Wednesday 3 January 2018. A small formal opening by the Vice-Chancellor will take place around a week later.
We will come back soon with new updates and photos.
Take care!
Ania and Arfon
[:cy]Helo eto,
Bythefnos yn ôl gwnaethom roi'r newyddion diweddaraf i chi am y gwaith i'r nenfwd ar Lawr D (gweler ein neges ddiwethaf). Mae'n bleser gennym ddweud bod y gwaith mwyaf swnllyd bron drosodd. Mae'r ardaloedd yn dechrau cymryd siâp gyda'r darnau gosod a'r gosodiadau nawr yn cael eu hychwanegu – edrychwch ar rai o'r ffotograffau newydd isod:

• Mae'r lampau cyntaf yn cael eu gosod yma.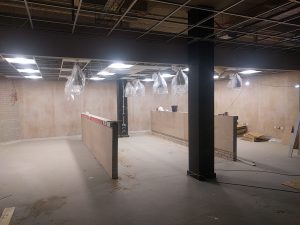 • Mae'r ardal luniaeth yn edrych yn dda!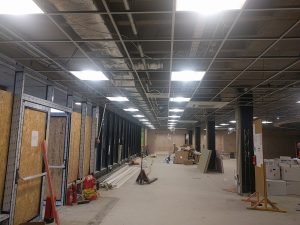 #

Rydym yn gwybod nad oedd y llyfrgell mor dawel ag arfer dros yr wythnosau diwethaf. Byddwn yn gwobrwyo eich amynedd a'ch dealltwriaeth gyda chacen i bawb sy'n dod i ddathlu ail-agoriad Llawr D ddydd Mercher 3 Ionawr 2018. Bydd agoriad ffurfiol bach gan yr Is-Ganghellor yn digwydd tua wythnos wedyn.
Byddwn yn ôl yn fuan gyda rhagor o newyddion a ffotograffau.
Hwyl am y tro!
Ania ac Arfon
[:]