Hello,
We are currently in week 10 of building works.
In our meeting last week with the contractors, RL Davies it was confirmed that:
• Mechanical and Electrical isolation/strip out is 100% complete.
• Plumbing and Mechanical 1st fix is in progress.
• Internal partitions are all boarded on one side.
• Entrance lobby substructure has been completed. Components have been removed to create space for our new entrance. (A reminder that the entrance will be relocated to face onto the concourse)
• Our suspended ceiling grid is due to be installed next week.
• Work continues on the ventilation system. This new ventilation system will result in a more pleasant working environment for staff and students on Level D.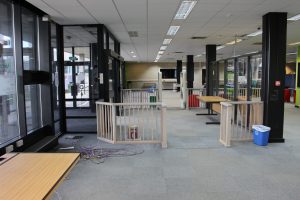 View from old entrance facing new Refreshment Area – Before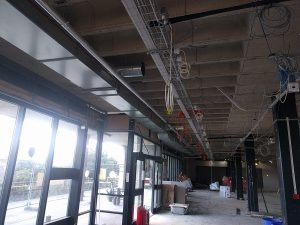 View from old entrance facing new Refreshment Area – Currently
The main thing we are working on this week with our electricians and mechanical engineers, is the position of our new furniture. Following on from regular student feedback, we are endeavoring to ensure we have as many plug and USB points as is reasonable in our new space to enable you to charge your devices.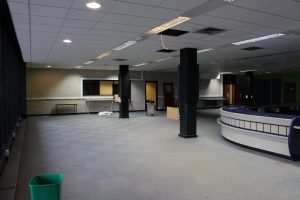 View from old entrance – Before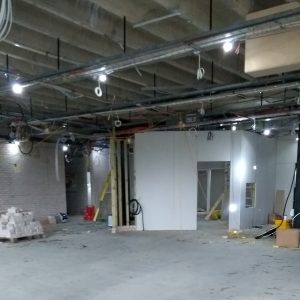 View from old entrance. Door on left of photo leads to stairs. Current view.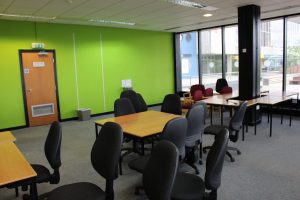 Location of new entrance – before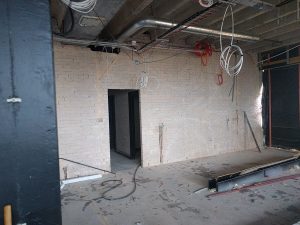 New entrance being build on left side of photo. Current view
We have also had very successful meetings with our colleagues in the Design Studio. Again, following on from student feedback, we are hoping to have some very beautiful murals and wallpaper in our new look Level D.
(Welsh translation to follow)