[:en]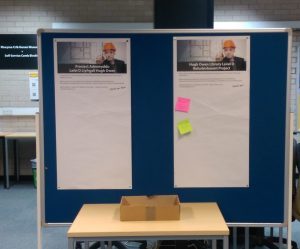 One thing I forgot to mention in my previous post is that the plans to date are very much based on feedback we have already received (the above image is the Feedback board we used in the library to gather your thoughts via Post-Its). Where ever possible your suggestions have been incorporated and we greatly appreciate the engagement and enthusiasm shown for the project so far.
Although the finer detail is still under discussion some of the high level architectural changes are more firmed up and we are about to approach a major milestone in the project as we will be going out to tender for the building contract at the end of this month. Watch this space! [:cy]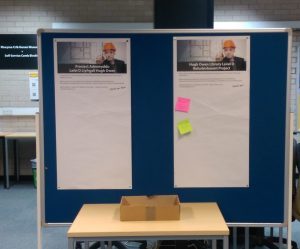 Un peth yr anghofiais sôn amdano yn fy neges ddiwethaf oedd bod y cynlluniau wedi'u seilio'n fawr iawn ar yr adborth yr ydym eisoes wedi'i gael (mae'r llun uchod yn dangos y bwrdd adborth a ddefnyddiwyd yn y llyfrgell i gasglu eich sylwadau drwy gyfrwng nodiadau Post-It). Pan fo'n bosibl, rydym wedi ymgorffori'ch awgrymiadau ac rydym yn gwerthfawrogi'ch ymrwymiad a'ch brwdfrydedd tuag at y prosiect hyd yma.
Er bod y manylion bach yn dal i gael eu trafod mae rhai o'r newidiadau pensaernïol mawr yn fwy cadarn ac rydym ar fin dod at garreg filltir fawr yn y prosiect gan ein bod yn mynd i dendr am y contract adeiladu ddiwedd y mis. Rhagor cyn hir![:]