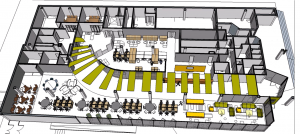 Hello, I'm Lucy O'Donnell the Project Manager for the Hugh Owen Library Level D Refurbishment and I am blogging on behalf of the Library Refurbishment Team. I have been a librarian in Information Services since 2012 and am an Aberystwyth University graduate.
The aim of this blog is to keep all users of the Hugh Owen library informed of the refurbishment plans and to seek your involvement and opinions on the project.
Here you will find the latest architect's plan for the refurbishment (image is courtesy of Pensaernïaeth DarntonB3 Architecture) Hugh Owen Level D Option G – Architect Design
Please be aware that these plans are currently in draft form. If you have any feedback on the project you are welcome to leave a comment or contact us via is-feedback@aber.ac.uk.
The web page with further information can be found here:
https://www.aber.ac.uk/en/is/news/librefurb/
We aim to blog each week to keep you informed of how the work is progressing.
Thank you!
Lucy