[:en]The refurbishment has brought a lot of disruption to Information Services colleagues and they've all been so supportive and cooperative in accommodating the refurbishment works. Whether its storing bits of furniture in their offices, cwtching up to make space for colleagues temporarily displaced from Level D or losing the staff tea room for the duration of the works, they have been fantastic. Thank you all.
Here are some of them making do in our temporary, makeshift tea room.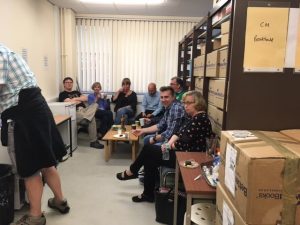 [:cy]Mae'r gwaith adnewyddu wedi amharu llawer ar gydweithwyr y Gwasanaethau Gwybodaeth ac mae pob un ohonynt wedi bod mor gefnogol a chydweithredol wrth i'r gwaith adnewyddu fynd rhagddo. Boed yn storio darnau o ddodrefn yn eu swyddfeydd, neu'n cwtsio lan i wneud lle i gydweithwyr sydd wedi gorfod symud o Lawr D dros dro, neu golli ystafell baned y staff dros gyfnod y gwaith, maent wedi bod yn wych. Diolch i chi gyd.
Dyma rai ohonynt yn defnyddio ein hystafell baned dros dro.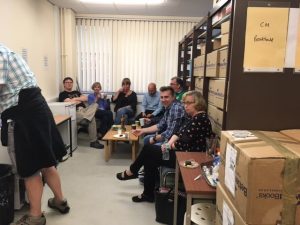 [:]