First things first, everything here happens later. Lunch is generally eaten at about 2-3 o'clock, businesses usually finish work around 8pm and, it's not unusual to be invited out for dinner at half 10, only to go for a drink around 1am in the morning. Since being here I've got used to a more relaxed pace of life, as people generally don't make concrete plans to go out, they tend to just go with the flow; this can be annoying at times as you never know what you're doing until the last minute but you gradually learn to appreciate it. For example, last weekend I met up with some friends for coffee at eight in the evening, however coffee turned into a spontaneous dinner until midnight at a Greek restaurant, which in turn became a glass of wine with nuts (you always get a little bowl of free nibbles) until 2am. It's great never knowing what your next plan is going to be! This is in complete contrast to the UK where most people are having dinner, which has probably been planned a week in advance, by seven and are back home by half eleven if they decided to stay out a bit later, granted it is a lot colder there but here you have the option to sit outside in most places even in the winter, as they have gas heaters to keep you warm.
Another great thing I've noticed since coming to Spain is how active everyone is. It's not uncommon to see people out for a run at nine at night or to see youth football teams training until eight pm. This past Saturday I went out sightseeing in Cartagena (I'll talk more about this interesting city in my next blog post!) and while we were having a picnic on the seafront, the thing I noticed the most was the sheer amount of men, women and children who were all out running; there must have been at least thirty people who ran past in the space of twenty minutes. This active lifestyle is prevalent almost everywhere, with outdoor gyms on most of the beaches and in a lot of parks, so you can walk your dog and still manage to squeeze in a workout. It's the same in school, since working here I've regularly helped out in the PE department and have had the opportunity of learning how to surf, kayak, SUP and, even play paddle, which is kind of like a cross between tennis and badminton. Getting to go to the beach for a term, as part of PE lessons has probably been one of my favourite experiences since working here, especially as the warm beach weather lasted well into late October to early November. Similarly, now that the beach weather is over for a while, I have the opportunity to go to the local football and paddle clubs for lessons with the year 11 students every Monday; this is part of their normal PE classes and I also go swimming on Fridays with year 7, with the added bonus of being able to use the Jacuzzi as I'm a teacher.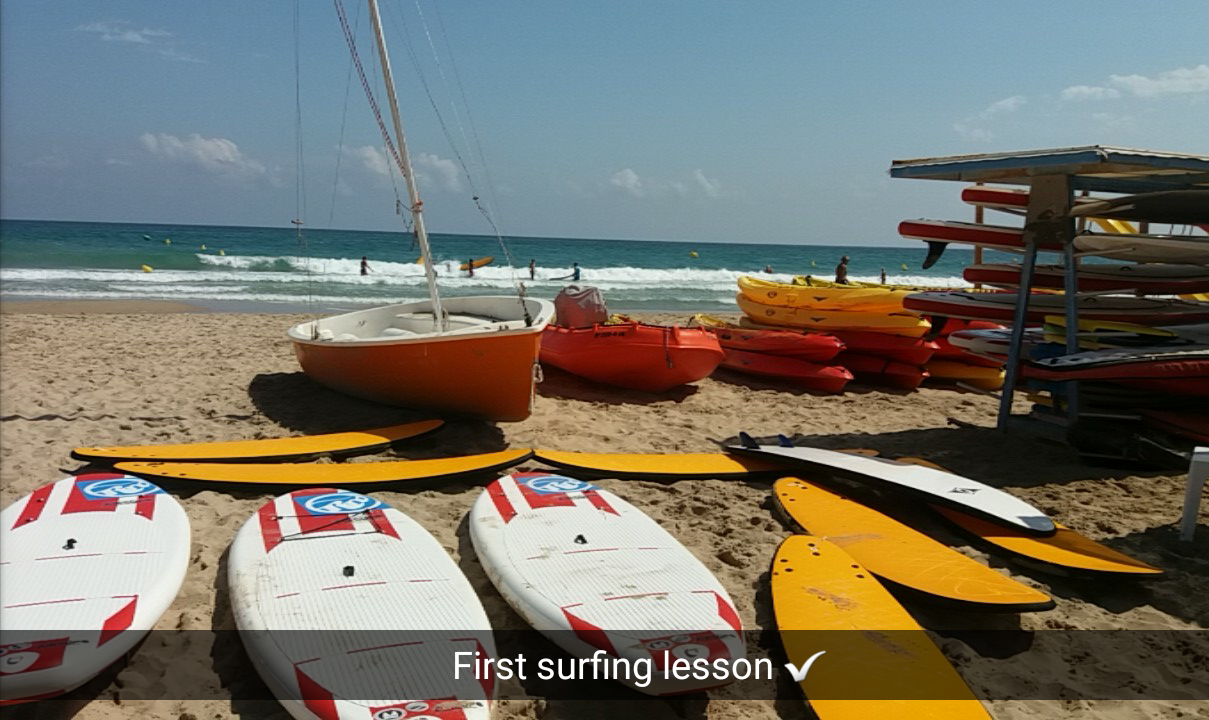 If sport isn't particularly your thing, then there are plenty of other things to do. If the weather is nice in Alicante (most of the time there are at least blue skies, if not sunshine, even when it's cold), then you can walk up to Santa Bárbara's castle, which gives you THE best views of the endless stretch of blue sea in one direction and in the other you can see the mountains – this winter they've been covered in snow for the first time in years! You can also take a walk along the esplanade, where there are always little stalls selling arts and crafts and also plenty of restaurants, which can specialize in anything from Spanish, Italian or Indian cuisine. Of course there is also the beach, which is one of Alicante's best features, in my opinion. On Friday's I only work half day, which means I finish at half two and on these days, once the summer arrives I try and go to the beach for a few hours straight from work. Even though they say that it's only mad dogs and English men who go to the beach at this time, when the sun is strongest, it's nice to have a swim and just unwind for a couple of hours after a week of work. There is also a great little ice cream parlor called 'Livanti' which is hidden in one of the side streets leading off from the Town Hall. Before going to the beach after work, I like to go there first and treat myself, as it is the third best in the country and they give you the biggest scoops, with as many flavour combinations as you want, for just 2 euros!
Wednesdays are probably one of my favourite cash saver days here (every student knows the struggle!), as the cinema plays films at the reduced price of 5 euros. The cinema in Alicante is unique in a way, as it also plays films in their original English version, with Spanish subtitles. This is really useful if you are a beginner in Spanish or if you just really fancy watching a film that hasn't been dubbed – although I'm sure most Spanish teachers are shaking their heads right now and will be telling you that the best way to learn is to watch films in Spanish, which is true! Here the cinemas are in the shopping malls which is great because you can go shopping, to the cinema and then for dinner afterwards all in the same place. Another reason why Wednesday is my favourite cash saver day, is because there is a restaurant called '100 Montaditos' where everything on the menu is just 1 euro, every Wednesday and Sunday. They serve any type of mini sandwich rolls you can imagine, even sweet ones made out of chocolate bread which you can have for afters, filled with cookies, cream or strawberry cheesecake.
¡Buen Viaje!
Follow me on instagram: @em_djones